Democracy Day: Bomb scare in Abuja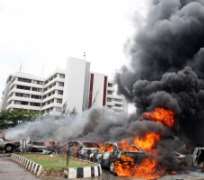 Residents of Kurudu, a community on the outskirts of Abuja, panicked on Thursday morning when an explosion, thought to be from a bomb, was heard.
The explosion caused panic in Kurudu, Jikoyi and other adjoining areas as citizens scampered for safety.
However, the spokesperson of the Nigerian Army, Olajide Olaleye, explained that the explosion was a 'controlled blast', noting that a rock had been blocking a new road being constructed from Karishi to Apo, in the Abuja city centre, was blasted, with dynamites, to allow construction progress.
He then called on residents to remain calm.
The Federal Capital territory, Abuja and its surrounding communities have been on alert following bomb blasts in Nyanya, planted by the Boko Haram sect, which led to the death of over 100 people.