Ailing Nollywood Director Becomes Speechless After Receiving 10million Naira From President Goodluck Jonathan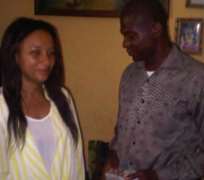 Scriptwriters president, Chike Bryan, has praised President Goodluck Jonathan for the goodwill message and help he (Jonathan) extended to him (Chike) over his ill-health.
Chike, in a chat with Nollywoodgists.com, said he was overwhelmed by the donation of the Presidency, which he never expected.
'It is good to be good. I was surprised when some actors and fellow colleagues stormed my house with the news of the donation, I was speechless for the kind of love I got,' he added.
According to Chike, 'President Jonathan is the first President of this country that I have seen contributing to the growth of the film industry and my colleagues can attest to that.'
Chike was diagnose of renal failure (kidney) and is to be flown to India soon for a kidney transplant.