Gov. Orji Says SENEC Is Open To All Igbos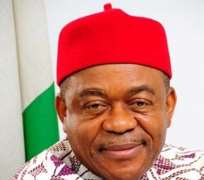 Abia State Governor, Chief Theodore Orji, has said that South East Nigeria Economic Commission (SENEC) is open to full participation of all Igbos even as he promised to use his powers to move SENEC forward.
Governor Orji who stated this when he received the chairman steering board of SENEC, Engr. Chris Okoye, in his office at Government House Umuahia, promised to invite Okoye to formally explain the importance of SENEC to his brother governors.
The Governor who is presently the Interim Chairman, based on his disposition as the Chairman of South East Governors' Forum, said the gains of SENEC are enormous if taken to the limits noting that the only way to exercise their ownership is by subscribing to its shares when the time comes.
Earlier, Okoye had pledged to collaborate with the governors of the South East to move the zone forward economically.
But he requested for the formalization of His Excellency's appointment of a Special Adviser and notarizing same to the executive council and the Abia House of Assembly so that other Governors will follow suite.
According to him, out of the five states four have signed the MOU and only two: Abia and Anambra have passed the SENEC bill in their state Assemblies.
The active involvement of the governors according to Okoye, will ensure the success and sustainability of SENEC.
He urged that the other states should pass the bill presently on the floors of their houses of Assembly in the interest of developing a sound economic foundation in Igbo land.
The SENEC chairman also requested His Excellency to urge his fellow governors to appoint their various representatives at the interim board, especially re-nominating some members whose tenures have elapsed due to change in government like Anambra State.
While he acknowledged that a temporary office is of utmost need, he was quick to add that the allocation of a strategically located land for a permanent complex in Enugu is necessary for a smooth take off.