Soldiers intercept Boko Haram ammunition in Enugu State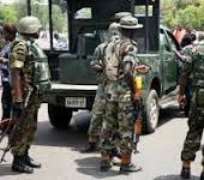 Soldiers have arrested three persons, including a retired Deputy Superintendent of Police, DSP, and a corporal, Abu Haruna, Solomon suspected to be arms dealers who supply the dreaded Boko Haram insurgents.
The third suspect, Onuwa Attaka, is the driver of the arms laden vehicle.
According to reports, the arrested suspects have allegedly confessed their involvement in supply of arms to insurgents in Northern Nigeria.
The three suspects, who were heading to the North from Imo State, were intercepted in Nsukka, Enugu State, by officers and men of the Nigerian Army while travelling in a bus.
Items recovered from them include- 40 AK47 magazines, 4 boxes of AK47 live ammunition, 100 pieces of live cartridges, one piece of Denin Mopol khaki and charms concealed in a cap.
One of the army officers who spoke to reporters under anonymity disclosed that a police corporal serving in Imo State Police Command was also involved in the arms running.
He said: 'When we asked the occupants of the vehicle to come down, we discovered a police corporal in uniform among them.
The corporal on getting down pretended to be pressed; he later ran away'.
The suspects, according to the reports, were taken to Nsukka Police Division and were later transferred to the state CID.
The retired DSP, Abu Haruna, confessed that he had been in the business of arms dealing since he retired from the police.
He said their mission was to supply the ammunition to their buyer in Taraba State.
The source said Haruna further confessed that they decided to go on the supply after the buyer complained that the first batch was incomplete.
The Police corporal's identity has been traced to Imo State Police command; his name was simply given as Solomon, even as efforts are still being made to effect his arrest.
The Nsukka Police Area Commander, ASP. Ros-Amson Haladu, while confirming the report, extolled the the gallantry of the soldiers in combating crimes in the area.
'I want to commend the Army Officers for their vigilance in tracking down these illegal arms dealers.
'At the same time, I warn criminals to leave this vicinity or risk being apprehended by security operatives', he was quoted to have said.