EFCC probes GTBank's role in N220m scam rocking Assemblies of God Church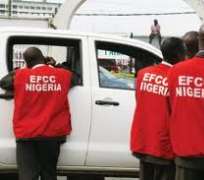 EFCC probes GTBank's role in Assemblies of God Church's N220m scam
The Economic and Financial Crimes (EFCC) is probing the role played by Guaranty Trust Bank PLC in the  crisis rocking the Assemblies of God Church Nigeria.
The bank,which built its reputation in transparency, has of later been enmeshed in troubled transactions, including those that verge on money laundering.
The bank was also mentioned in the alleged money laundering charge against the son of Gov. Sule Lamido of Jigawa.
The financial crimes agency is looking at  transactions of the church following allegations of embezzlement and misappropriation of funds.
Among the the allegations under the searchlight of the EFCC  is the purchase of N220 million property in Germany by the church through a loan obtained from GTBank.
According to. reports, the church and the anti-graft agency have confirmed that some key members of the church have been interrogated by operatives of the commission while others suspected to be involved in the alleged scam have gone into hiding.
The probe  followed a petition by a faction of the church led by the Assistant General Superintendent, Rev Chidi Okoroafor, alleging that the Executive Council of the church was neither privy to the property bought in Germany nor gave approval for the purchase.
The allegations include: that the said property whose purchase was said to have been completed in 2011 was non-existent;
That General Superintendent, Prof Paul Emeka, single-handedly handled the transaction.
Emeka was however quoted  as saying that his predecessor, Rev Charles Osueke, commenced the process of purchase of the property with an initial deposit of N20 million.
According to to him, his administration only continued with the transaction when it came on board four years ago.
He stated that the transaction was completed from a loan secured from the GTBank, adding that the entire thing was based on the decision of the executive council of the church