Unsaintly St. Janet: 'Faaji Plus' is for mature fans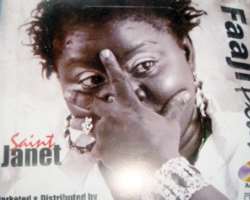 Her stage names bears saint, but the lyrics of her songs are anything but Godly. Saint Janet Ajilore-Iyun is currently in the eye of the storm for the extreme passions that her recently-released live play album have drawn. For the moralists, she is the devil incarnate while the liberals see her as a damned good entertainer. In this interview, the Abeokuta, Ogun State-based female musician discloses that Faaji Plus, which was performed before a select audience was pirated and sold to the public, a realisation of which forced her to formally release it. Contrary to public perception, VICTOR ORIOLA here reports that Janet, whose lyrics is considered lewd and extremely explicit, is a very shy person.
What inspired you to release Faaji Plus?
I am inspired once I hold the microphone.
How long have you been singing?
I have been singing for about 11 years now.
Where are you based?
In Abeokuta.
What brand of music do you do?
Juju highlife. I started with my boss some years ago.
What is his name?
Lords Kenge.
When did you become a professional singer?
I started about nine years ago.
But people don't know you until this Faaji Plus, what was responsible for this?
It is because God said it is time for me to be known. The Faaji Plus was even a live play. It was not my debut album.
Was that why you chose a lewd and explicit raw brand?
The CD that you see out there is not really an album. It was a live performance at a party for selected people. The music is meant for adult. It was not meant for everybody and that is why we didn't release it into the market until we discovered that some pirates had got hold of the album and were making millions from it. It is like reaping from where you did not sow. That was why we had to release it. I can tell you that it was not intended for a commercial purpose, that is why we didn't do any advertisement or publicity of the live play. There is even no video of it; it was purely for mature minds. But whether we like it or not, some people are bound to criticize the music because of the lewd lyrics. But this is not the first one. Like I said, it is when God says yes.
Why that brand of music?
It was based on the request of the person who invited me to come and entertain at his function.
But Christians are very angry with you the way you bastardised their songs to achieve a particular purpose, are you a Christian?
I am a Christian, my name can tell you that. Janet is a Christian name. As for the music, I can tell you that people like it, they are just being hypocritical.
Do you go to church, because I was about asking the reaction of your pastor to that music?
Is it everyone that goes to church that has a down to earth relationship with his/her pastor? You may be attending a church for years without being noticed if you do not have any cause to see your pastor. There is the possibility that you may not have any cause to talk with your pastor.
You had anticipated that your music would cause an irritation to some people, were you not embarrassed about the torrents of criticisms that have greeted your album?
Like I said earlier, the song was not meant for commercial purpose initially, it was when some pirates were feasting on it that we had to release it. After the performance, you know people who invited you will ask for a copy, and they can do whatever they want with it thereafter. Sometimes, people will come to your show with camcoders to record your performance and before you know it they are already smiling to the banks. I am a juju artiste, the Faaji Plus you are talking about was based on request, it was not meant for sale. And when some people listened to it they decided to throw it into the market and that is why we also released it but we ensure that we didn't do any promotion, no advertisement and video on it because it is for mature minds.
That means you must have made a fortune from it?
(Laughter) I don't know anything about the sale because I am not the one selling it.
How many copies did you release into the market?
I can't know, because you may ask people to produce 1,000 copies and they go behind to make 5,000. You know it is possible. That has to do with the marketers and those in charge.
You are not bothered by the criticisms that have trailed it?
I am not bothered. From the feelers we got from people who have listened to it and the popular demand for the music in the market, people like it. I want you to know that some people bought it and listen to it alone in the comfort of their cars. The music is not as bad as it is being portrayed. Some people are hypocritical, that is it. My manager is working on the master tape of my gospel music, you can listen to it. She plays it on her laptop, I don't play lewd music always except on request. I was stunned when a marketer called from Alaba International market to inform me that my music was with them. Initially, I didn't believe it until he played it to my hearing, I was stunned. So, I said before they rip me off let me release it. That was how it got into the market. But we'll ensure that subsequent ones that will be done on request will not be everywhere like this. I can tell you there is no stigma in the music. May be the proper channel of communication was not explored.
Do your kids listen to your music?
My son is about a year old. Besides, other people who stay with me also listen to my music. I told you earlier that I don't play raw every time, it was based on request. I also play songs that you can listen to every time. Again, the Faaji Plus is like a man going on the streets and deciding to buy a pornographic movie. You can buy it and keep it in your wardrobe. Even, some marriage counselors advise intending couples to watch pornographic movies so that it would improve their sexual lives. It is now left for you if you allow your kids to watch it. Abroad, there are some television stations that are strictly for adults. You subscribe to it with your password and watch when your kids have already gone to sleep.
Does your husband listen to your music?
We did it together. He played the lead guitar.
With your brand of music, you must have created an impression in people's minds. How do you handle your male fans?
That is not a problem at all. In the first place, my husband follows me to my shows. As I said, he is part of the musical group. So, by the time people get closer to me, they will know that may be I am the opposite of what they think. And I think I have been handling my male fans without any problems.
Are you romantic?
You can ask my husband that, he is in a better position to tell you.
Do you take any stimulant to enhance your performance on stage?
No, I take only bottled water. I don't take any alcoholic drink. It is not part of me, and once I handle the microphone I will be inspired and continue to sing. It is just like that.

Story by nollywoodgists.com