'Bird woman' escape lynching from Lagos mob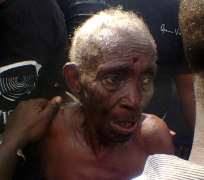 It is like a story out of the folklore. A flying bird hits a van, turns into a woman, who confesses to be a witch.
That is exactly the story of an unnamed elderly woman, who was nearly lynched on Wednesday after being accused of being a bird and witch in the Ajegunle area of Lagos State.
Different accounts have it that the purported transformation took place at Ojo Road, Ajegunle, Lagos.
Hundreds of residents were said to have gathered around the woman to lynch her.
Reports quotes an eyewitness, whose name was given as Chike in some reports and Emeka in others as saying he was sitting in front of a compound with his girlfriend when they saw three black birds flying.
He said when they saw three black birds in the air flying as if they were playing and he jocularly told his lover, Kemi that two of the birds could be male, fighting over the only female one.
He said barely had they finished laughing over the joke when one of the birds fell and landed on a moving pick-up van belonging to the Eko Electricity Distribution Company, while the rest flew away.
Emeka said the bird then, fell on the floor and suddenly turned into an old woman, with blood gushing out of her forehead, as she rolled on the road.
He said a large crowd was attracted to the scene and the woman confessed to being a witch from Ibadan and that she came for a meeting in Lagos and was going back when the incident occurred.
The source said the woman told the bewildered crowd that they missed their way which was why they were hovering in the air till daybreak, adding that she fell because of tiredness.
Emeka said, 'When the crowd was interrogating her, she said she was a witch and that she came from Ibadan for a meeting in Lagos but as they were returning home they missed their way and wasted so much time hovering in the area till daybreak. The woman claimed she fell because she was tired of flying.'
It was learnt that as the woman was about to be lynched, the traditional ruler of Layeni Community, Baale Rafiu Olayeni, arrived the scene and pleaded with the angry people not to take laws into their hands.
Olayeni told our correspondent that he called the Divisional Police Officer of Layeni Police Division, CSP Chijioke Ndu, and he drafted anti- robbery policemen to the scene, rescued the woman and took her to the station.
Hundreds of spectators were said to have followed them to the station.
Disclaimer:

"The views/contents expressed in this article are the sole responsibility of

The Rainbow

and do not necessarily reflect those of The Nigerian Voice. The Nigerian Voice will not be responsible or liable for any inaccurate or incorrect statements contained in this article."