National Interests Surpass Personal Interest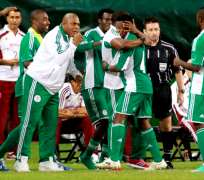 National assignment is a call to duty which must be deliver with all sincerity and devoid of personal sentiment.
Stephen Keshi has done well within the short time as head coach of super eagles. He has won the AfCON and qualify eagles for the world cup. One can say he has live beyond expectation.
World cup is a game of men not boys. It is a game where country go to with their best. The recent provisional list by the head coach is certainly not the best for the country. I wonder why a player who has scored 14goals will not be taken to the world cup. A player who is African highest goal scorer in Laliga.
Let call a spade a spade, sentiment should not be cloud objectivity. In as much as Keshi has right to select his players, he should do so with all sincerity of purpose and not murdering right for personal interest.
How can a bench warmer or inactivity player be selected ahead of active and scoring player. With all sincerity, Ikechukwu Uche deserved a place in super eagles. If a player like Wayne Rooney, Balootoli. Eto etc. who are outspoken but are very good at the game are going to Brasil, why will Uche who doesn't has history of bad behavior miss out.
I strongly suggest that Keshi should as matter of urgent recall uche and obasi. They deserved a place at eagles line up.
Chibuike Lives In Lagos
Disclaimer:

"The views/contents expressed in this article are the sole responsibility of

Chibuike

and do not necessarily reflect those of The Nigerian Voice. The Nigerian Voice will not be responsible or liable for any inaccurate or incorrect statements contained in this article."