Ashafa Honoured At Morgan State University, USA
As He Preaches Against Insurgency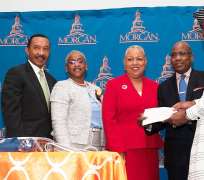 As the search for the abduction of over 234 girls continues, the lawmaker representing Lagos East Senatorial District at the upper Chamber of the National Assembly, Senator 'Gbenga Ashafa, has condemned the recent abduction of over 234 girls of the Federal Government Girls Secondary School in Chibok, Borno State, describing it as needless, evil and criminal.‎
The Lawmaker stated this at the 74th Morgan State University Annual Alumni Awards and Class Reunion Luncheon at the Morgan State University Student Centre, Baltimore, Maryland, USA, where he was given an award of recognition by the Alumni of his Alma mater; Morgan State University, Maryland, USA.
Receiving the award, Senator 'Gbenga Ashafa expressed his delight first as an awardee, and more importantly, as an old student of the great University. Speaking further, he said "I am humbled by this symbolic gesture of recognition by the Alumni of the University that is the quintessential gateway to opportunity and the stairway to excellence. Of course, I would like to identify with the 1978 set; being the defining year I was pronounced graduate of the Morgan State University."
Ashafa, a seasoned administrator, while appreciating the gesture bestowed on him by the University, also gave kudos to the US government for their support in curbing the 'Boko Haram' insurgency and putting an end to all acts of terrorism back home in Nigeria.
""Today, many have shown deep concern about the events in my country, Nigeria in respect of the dastardly act of Boko Haram and their attendant implications for the most populous black Nation on earth.
I say thank you to the U.S government and the American people for offering strategic support in ensuring the defeat of these small but potent elements that want to impose their extreme, criminal ideology on the whole Nation. The recent abduction of 234 girls from Federal Government Girls Secondary School, Chibok in Borno State, Nigeria by a group of terrorists called 'Boko Haram' is the tipping point of criminality.
"As you know, the legislature does not have any executive powers but as a Senator of the Federal Republic of Nigeria, I have, in collaboration with other Senators, initiated a high level engagement with our President, to map out practical strategies in securing the release of the abducted girls and put an end to the tragedy of terrorism as soon as possible and practicable." He said
Ashafa, who dedicated the recognition award to the over 234 GIRLS abducted from the Federal Government Girls Secondary School, Chibok, Borno State, Nigeria on the 14th of April, 2014, also donated an endowment fund to further encourage the teaching of Nigerian Indigenous Languages, particularly Yoruba Language in Morgan State University and for Alumni Relations in the university.
L- R: Chairman, Morgan State University(MSU) Board Of Regents, Mr Kweisi Mfume, President MSU National Alumni Association, Mrs Jacqueline Lawson, Vice President For Institutional Advancement, Ms Cheryl Hitchook, President, Morgan State University, Mr David Wilson And The Awardee, Senator 'Gbenga Ashafa, During The Recognition Award Given By Morgan State University, At The 74th Alumni Awards & Class Reunion Luncheon, Maryland, USA, On Friday