Why I am angry with 9ice -Baba Ne, originator of Ijala hip hop music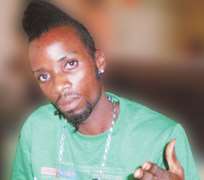 Adewale Alani Kayode, a.k.a Baba Ne, wears a hairdo that most people might describe as weird. He calls it the 'Sango' hairstyle. Yet it reflects his desire to establish a distinct identity for himself on the Nigerian entertainment scene.
Initially torn between completing his education at the Moshood Abiola Polytechnic, where he was studying to get a diploma in Mass Communications, and his passion for music, Baba Ne finally chose the latter. Now at 26, he feels that he is getting very close to realising his dream.
What is this dream about? "I have always wanted to become a succesful music artiste and to change many .lives through my music,"he told Saturday Punch. For this reason, he has remained focused on music, even as a boy of 10.
"I have been singing since I was in secondary school,"he said, adding that he was a member of the choir at Christ Apostolic Mission Church and Afrobeat music had always held a strong attraction for him.
He started out by miming Fela's songs at music jams organised by his peers. Later, he moved from singing at local gigs to the church, where he found it convenient to adapt Afrobeat to Christian tunes. He said,"Whenever I sang gospel songs in church, I preferred to handle them in a different way. I sang mostly in Yoruba language".
Baba Ne said he actually got hooked on to Afrobeat at 14. This love for that kind of music was influenced by his father who was deeply interested in Fela Anikulapo-Kuti. "My father admired Fela so much for his boldness and fearlessness that he always talked about him at home. For a long time, he would talk about Fela's confrontations with the government and his philosophy and lifestyle. In fact, Fela was like a hero to him. Apart from that, he was addicted to Afrobeat and always played it at home,"he said.
Eager to share in his father's love for Fela, Baba Ne had found himself gravitating, soul and body, towards Afrobeat. It was the classic story about a boy following diligently in his father's footsteps.
Initially the fear of what his parents would say had forced him to pretend to be serious about gospel music at home. At school and away from their interfering presence, he would switch to Afrobeat. He did this for a while till he could not conceal his real passion any more.
Did he succumb to the temptation to smoke Indian Hemp, the trade mark of most lovers of Afrobeat music? "No. I don't smoke nor drink alcohol. I just love the way Fela did things, the way he spoke out against injustice and oppfression, and his lack of fear for anybody in position of authority,"he replied.
Eventually he had taken his love for Afrobeat to the church scene, in the process adapting the music genre to the tunes played by the choir during praise and worhsip sessions.
Describing how his mother reacted to his choice of career, he said, "My mother got to know about my romance with hip hop music by accident. Before then, she probably had noticed my inclination in church, since I was a member of the choir and sang during praise ad worship time. When she found out that I was more inclined to music than anything else, she wasn't worried about it. But my father was the problem I had".
Beneath his music-loving façade, the older Kayode was made of a sterner stuff. Being quite strict, he wasted no time in impressing it on his children that education was sacred. Baba Ne said his father constantly bullied him into minding his studies instead of fooling around with songs or dreaming of a glorious career as a music artiste.
Interestingly enough, he confessed that up until the time of chatting with Saturday Punch, his father knew next to nothing about his achievements in the music industry. "He does not know that I can sing. He never believed that I could sing, anyway,"he said.
But there is an indication that Mr. Kayode may consider changing his mind about his first son soon. Recently he stumbled upon a newspaper report on Baba Ne and he appeared to be surprised and pleased that the young man might hit the limelight.
For this young and sprightly music artiste, growing up was not a very pleasant experience because his childhood desire to become a successful artiste was somewhat overshadowed by parental disapproval.
"I didn't spend much time with my parents. At one time we lived in the Mushin area of Lagos. When my family moved to Abula Egba, I didn't go with them. I had to remain at Mushin in order to complete my education. All the while, I lived with my friends,"he said.
But that was not the real reason why he could not move house with his folks. The truth, according to him, is that he dreaded the presence of his father. "When I think back to those days, I realise that I didn't want to go home because of the kind of father that I had. Whenever I wanted anything, I would sneak quietly to the house in his absence and get it from my mother and go back," he confessed. He wanted to be free and always sought an opportunity to hone his skill as an upcoming singer, without having to bother about his father's interference.
Has Baba Ne's music career effectively kicked off? The answer is yes. He has just been signed on to a new records label, Stingomania Music.
His second music album has just been released into the market. The first one was titled 'Hip hop pleasure', which signifies a clear deviation from his beloved Afrobeat music.
Despite his penchant for infusing traditional Yoruba elements, such as the Ijala chant, in his music, Baba Ne prefers to call it Afro hip hop. "I would have called it Ijala hip hop, but it occurred to me that people will not understand why," he said.
Baba Ne said he mastered Ijala, which seems like the ancestor of the modern rapid applied poetry (rap), without much external assistance. But Ajobiewe's art influenced his own performance to a large extent. "He inspired me. But I decided to adapt my work to hip hop, in order to make a difference. Besides, I wanted everybody to know that one could make music in any form of his choice," he said.
Between the time that Baba Ne started out by singing in the church choir and when he recorded his first album, the going was really rough. It took so long to find his bearing on the music scene because he had nobody to back him up financially.
Apart from not having money, there were other challenges. In the first place, having defined what he wanted, he had to survive the characteristic elbowing and shoving among Nigerian music artistes. "Right now, nothing has changed. There is a hell of a struggle for survival out there. Some artistes want to corner all the shows for themselves and their friends. This is the challenge that I am facing now. Nobody wants to give an upcoming artiste a chance and everybody is busy forming cliques. It is like a rat race, really,"he said.
In spite of the hurdles that he had to scale on his path to reckoning, Baba Ne managed to record a second music album titled 'Twice as nice'. It is a 12-track album that is dedicated to the struggles of upcoming artistes who have to endure a spell of disappointments and frustrating encounters, especially with the established artistes, before getting a break. He said he had intended to reach out to this class of people and to encourage them to hang on until their trials were over.
Baba Ne has no role models. But he adores Obesere's lifestyle so much that he calls the Fuji musician 'godfather'. "I have always performed at every show that hosted Obesere. I always open his shows for him" he said. Apart from this, he had featured in big league music events, such as the Star Mega Jam, alongside popular American hip hop artistes, and the experience impacted positively on his resolve to carve a niche for himself on the entertainment scene.
At the present, Baba Ne nurses a grudge against a fellow music artiste. Only recently the management of his new records company prevailed on him not to sue 9ice for allegedly appropriating one of his recorded songs. Dismissing any notion that he might have dreamed up the subject and intended it as a publicity stunt, as most artistes desiring attention are wont to do, he told Saturday Punch that 9ice actually recorded the song titled 'Pete, pete' in his current album without seeking permission from him. He said, "The song is mine. I recorded it as a single with K-Solo. You can ask K-Solo if it's true or not. Besides, I have been singing it at gigs for more than a year now. It was played on the radio a couple of times".
He said that several attempts to discuss this matter with 9ice were shunned by the latter. But, as an alternative to a court action, he has resolved to stoke the fire of a lyrical war. So what lies ahead might be a full-blown lyrical struggle with 9ice, the type that used to define the rivalries among American rap and hip hop artistes.
The trouble is Baba Ne is really burning up with the desire to slug it out with 9ice on the microphone and he wants his fans to watch out for the duel
Story by nollywoodgists.com