'I Am Nigeria' is more than a song – Amaikah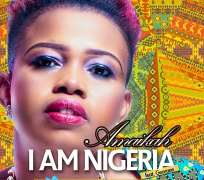 African Goddess of Songs, Amaikah, has released a new single that's as beautiful as she is; she titles it: 'I Am Nigeria' and then she insists this latest effort of hers "is more than a song."
"Certainly," Amaikah says, "'I Am Nigeria is more' than a song. It's a confession. And it's what I'll like to call my own PSR- Personal Social Responsibility to my Country Nigeria.
"At the moment, we are facing some of our most trying times: Killings, kidnappings, bombings, and all that. Those behind all these forget that Children are the worst hit of all these. And that's the angle I'm coming from. Let's see Nigeria from the perspective of the Child. Let's stop doing what will make them cry. The only way we can do this is if every one of us sees ourselves as the Nigeria we are destroying. If I am Nigeria, and I know it; I won't do anything to bomb or kill myself."
First, 'I Am Nigeria begins like a Message of Peace. Then, it flows like a tear of sorrow; it ascends like prayers for Children, and then, it Plays – It plays like a song. It reads like a Poem. And it promises like a Pledge.
Produced by Brisoul, 'I Am NIGERIA' can be listen