WORLD BANK SEES AFRICA ECONOMIES REBOUNDING IN 2010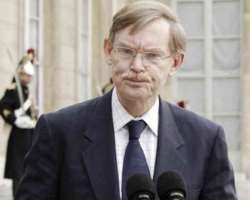 World Bank sees Africa economies rebounding in 2010
REUTERS
March 19, 2010 05:33AM
World Bank President Robert Zoellick hopes that African economy rebounds despite the present global recession. Photo: REUTERS
Sub-Saharan African economies will rebound this year, growing by about 3.8 percent, but their recovery will be slower than in other developing nations because of a reliance on commodities, the World Bank said on Thursday.
The bank expects economic expansion of 4.6 percent in 2011 and estimates the region grew by between 1.0 and 1.1 percent in 2009, said Andrew Burns, the bank's manager of global macro economic trends.
"We expect the recovery to be a little more muted because the dip in growth was less pronounced (compared with other developing countries)," he told a news conference.
Other developing countries will grow on average by 5.2 percent in 2010 and 5.7 percent in 2011, the World Bank estimates.
"Globally the crisis is over, we are through the acute phase," Burns said. "The post crisis rebound is starting to slow down and the growth impact of fiscal stimulus programmes will diminish in the course of this year."
He said the sub-Saharan African region would not feel the impact of recovery in other global economies because it is less export-oriented than other developing countries. Much of the continent is dependent on commodities rather than manufacturing.
"We don't see commodity prices rebounding to 2008 levels although they will remain high compared to 1990s and 2000s," said Burns.
The World Bank expects net private capital flows to developing countries to recover to between 3.5 and 4 percent of gross domestic product in 2010 and 2011 and by 4.0 and 5.0 percent range of GDP.