Nigerian Immigration Replies Davido's Bribe Claims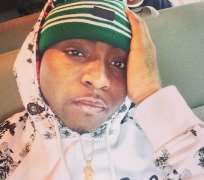 Top Nigerian music artiste, Davido tweeted some days ago that he missed his flight to London because some immigration officers stationed at Murtala Mohammed International Airport, Ikeja, Lagos harassed him for money.( READ IT HERE) The Nigerian Immigration Service has now responded to Davido's claims.
In a statement released today by the NIS Public Relations Officer, Emeka Obua, the Immigration stated that on the fateful day, Davido presented a US passport number 460918874 issued at Georgia on Dec. 14,  2009 and valid till December 14, 2019, but was asked to produce a Nigerian passport, which he said he left at home.
According to the statement, "the officer now informed him that he should go and bring the Nigerian passport to convince him that he did not enter Nigeria illegally with a foreign passport without visa. Adeleke started arguing with the officer, who had to refer the case to his superiors and the verdict was that he could not make the trip unless he produced the said Nigerian passport.
"Livid with anger, Adeleke, in company with his bodyguards, started protesting in a disorderly manner, prompting the Comptroller of Immigration in-charge at MMIA to intervene. He advised Adeleke to call his bodyguards to order (caution) and comply with the lawful instruction which would not only erase any doubt as to his immigration status but also establish his claim to dual citizenship."
Davido was said to have left and on the following day produced his Nigerian e-passport with number A02227477 issued at Abuja on August13, 2010 and valid till August 12, 2015.
"This behaviour of Adeleke is quite unfortunate. One would ordinarily have expected some form of commendation from him for the professional manner the officers, who attended to him, conducted themselves especially in  saving him from  embarrassment at some international port of entry by ensuring that his passport is endorsed as is the law and practice in Nigeria.
"The intention of this statement is not to to join issues with Mr. Adeleke but to set the facts of the incident, as it happened at MMIA on the said day straight."
Click the link below to go to...
Nigerian Immigration Officers Harass Davido At Lagos Airport
Ex-Ekiti State Gov., Ayo Fayose In Rumoured Sizzling Romance With Iyabo Ojo's Girl
Segun Arinze's Ex-Wife, Ann Njemanze Re-Marries
[Pictures] Baba Ijesha Finally Weds Samsung's 'Big Girl' Fiancee
Rejected MBGN Winner, Ayuk Isabella Confesses: "I Lied To Gain Stardom"
I'M NOT GAY, I PRACTISE SAFE SEX-BANKY W