Akunyili's health worsens, to be flown abroad- Source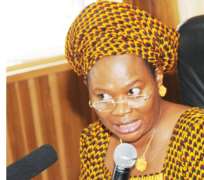 The former Director-General of the National Agency for Food and Drug Administration and Control and ex-Minister of Information, Dora Akunyili, was to be flown abroad for medical treatment on Saturday.
Akunyili, a delegate at the ongoing National Conference had said she was recovering from a life-threatening ailment.
It was gathered around 9p.m on Saturday night that Akunyili's condition had deteriorated and any further delay in getting medical attention would have been detrimental.
Confirming the incident, one of her close aides who pleaded anonymity, told our correspondent that, 'Please pray for her.  She is to be flown abroad tonight for medical treatment in India.'
Many were surprised when Akunnyili made an appearance at the confab looking frail. Responding to comments about her health, she said, 'My attention has been drawn to a story making the rounds online claiming that I am seriously sick, currently out of the country and in need of urgent prayers.
'This story is baseless, unfounded and the handiwork of mischief makers. It should be ignored and discarded in its entirety. As every informed Nigerian knows, I am a delegate to the National Conference currently holding in Abuja.
'While it is true that I recently came out of a major sickness, for which I thank Almighty God for delivering me, I have since been declared fit by my doctors and returned to my normal activities. I shed much weight in the course of the sickness - which is normal - but I am well now and only need time to re-grow some flesh. There is nothing to worry about either my health or my present stature.' Punch