NSE closes negative after a week of mixed trading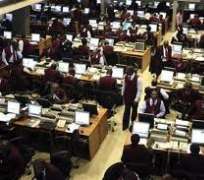 The Nigerian Stock Exchange witnessed mixed fortune in the week, alternating between the bearish and bullish mood
After a brief transition into the bearish mood, the Nigerian stock market partly swung back into a positive season during the week ended with most sectors partaking in the reverse trend, to close the market flat ex-DANGOTE CEMENT.
Market analysts attributed the development largely to attractive pricing following the previous weeks' of downtrend occasioned by the profit takers activities. However, generally, NSEASI lost 6 basis point (-0.06%) to close the index at 38,554.19.
Market capitalisation of the listed equities also shed N21bn or 0.17 per cent to close at N12.699tn.
The NSE 30 Index was also down, dropping 2.66 basis points or 0.15 per cent to close at 1,737.42 basis points, while the NSE Banking Index fell marginally by 0.13 basis points or 0.03 per cent to close at 398.03 basis points.
The NSE Consumer Goods Index and the NSE Lotus Islamic Index declined by 0.09 per cent and 0.29 per cent to close at 955.25 basis points and 2,692.30 basis points respectively, while the NSE Industrial Index shed 0.13 per cent or 3.37 basis points to close at 2,506.94 basis points.
The NSE Oil and Gas Index, however, gained 0.68 per cent or 2.21 basis points to close at 322.97 basis points with the NSE Alternative Securities Market Index closing flat at 950.94 basis points.
The NSE banking subsector led the activity chart in terms of volume traded, accounting for 39.28 per cent of total turnover.
In the subsector, 119.719 million shares valued at N1.925bn were traded in 1,319 deals.
Volume in the subsector was driven by trading in the shares of Zenith Bank Plc, Guaranty Trust Bank Plc and United Bank for Africa Plc.
A total of 33 equities appreciated in value on Friday, while 22 stocks witnessed price depreciation.
NPF Microfinance Bank Plc topped the gainers' chart after it rose by 5.56 per cent or five kobo to close at 95 kobo per share.
It was followed by Mobil Nigeria Plc, which gained five per cent or N6.47 to close at N135.87 per share.
A section of the market participants opined that the 24th World Economic Forum (WEF) for Africa being held in Nigeria for the first time also contributed to the positive sentiment in the market this week, signaling some economic strength despite the insurgency worries. Out of the 16 African companies selected to join the WEF global growth companies community, six are Nigerian companies (SEPLAT, CWG, UAC, INTERSWITCH, NOTORE CHEMICALS AND NAGODE GROUP) which draws attention to the great potentials of the Nigerian market.
This report highlights the sentiments across the NSEASI stocks' baskets with a review of key stocks that drew investors/analysts' attention.