Nigeria ranked 44th in latest FIFA rankings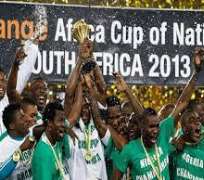 The Super Eagles of Nigeria are now ranked 44th in the world, according to the FIFA rankings for the month of May, which was released on Thursday.
This signifies just a step up for Nigeria, as they were previously ranked 45th. The African champions however remain sixth in the continent behind Cape Verde.
Ivory Coast remains the top-ranked African nation at 21. Egypt (24) is second, followed by Algeria (25), Ghana (38) and Cape Verde (42).