ANC in early lead in S'Africa polls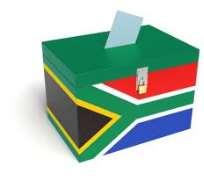 South Africa's governing African National Congress has taken an early lead in the general election, partial results show.
With 31 per cent of votes counted, the ANC had 58.7 per cent of the vote followed by the Democratic Alliance on 27.7 per cent.
The ANC is widely expected to return to power although analysts say anything less than 60 per cent of the vote for the party will be seen as a major upset.
The Economic Freedom Fighters party was in third place with 4.2 per cent.
The electoral commission said voting passed peacefully in most areas.
Turnout was just over 72 per cent, with about 25 million people registered to vote in 22,000 polling stations across South Africa.
The elections are the first since the death in December of Nelson Mandela - the country's first black president - and mark 20 years since the end of white-minority rule.
Those born after the end of apartheid in 1994 were able to cast their ballots for the first time, although only a third of those entitled to do so had registered to vote.
An ANC victory would return President Jacob Zuma for a second five-year term. In the last election in 2009, the ANC saw a drop in support, polling 66 per cent of the vote.
Speaking as he cast his vote on Wednesday, Mr Zuma said he thought 'the results will be very good', but added that the campaign had been 'very challenging'.
The party emerging as the ANC's main challenger is the Democratic Alliance - a liberal pro-business party, led by anti-apartheid activist Helen Zille, which is trying to make inroads into the black electorate.
The EFF, launched last year by former ANC youth leader Julius Malema, hopes to get its first parliamentary seats with its campaign for nationalising the mines and the forced redistribution of farmland. BBC