Panic in Abuja over rumour of school bus hijack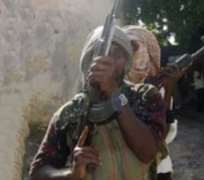 There was pandemonium in Abuja in the early hours of Tuesday after a rumour that a bus, conveying pupils to a school in the capital city, had been hijacked by gunmen suspected to be members of the Boko Haram sect.
Parents were said to be running helter-skelter, hurriedly withdrawing their wards from both private and public schools around Nyanya and Maraba as the rumour gained ground of the abduction.
Schools around Nyanya and Maraba are reportedly being shut, though authorities had yet to comfirm the report.
A Twitter handle @fejirooliver belonging to 'secret reporters' tweeted that 'Again, school bus hijacked in Nyanya and school
girls taken. So after two successful attempt in Nyanya, they could not provide security?'
It turned out to be a false alarm as the school in Nyanya had denied that its bus was hijacked. Punch