WHAT PEOPLE SAID AT OBI'S INAUGURATION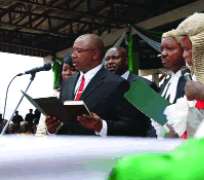 What people said at Obi's inauguration
From GEOFFREY ANYANWU, Awka
Thursday, March 18, 2010
Obi's Deputy,Emeka Ndubuisi Sibeudu, being sworn in by Justice Paul Obidigwe
Dame Virgy Etiaba, immediate past deputy governor of Anambra State. Yesterday the 17th day of March 2010 marked a new dawn in the political development of Anambra State. A new and rejuvenated APGA team had been sworn in to once again pilot the affairs of our state. Anambrarians should be proud that a once politically unstable state seems to be finding its feet in Nigeria's new democratic culture.
Our journey has been very chequered and long winded and today's event marks a remarkable advancement in that journey and while congratulating our re elected Governor and new Deputy Governor, I extend the same sentiment to our party [APGA], our Leader Dim Chukwuemeka Odumegwu Ojukwu, all the other political gladiators in our state and most of all, the Good People of Anambra State, for all efforts in actualising our dreams.
I came into office in March 2006 under a politically charged environment and today, I go back to Madubugwu Villa, Inyaba, Umudim, Nnewi under a more stable political climate. I do so with a great deal of satisfaction that I came, saw and did my best towards the upliftment of our people, especially during a turbulent and traumatic period for our state. It has really been a roller coaster ride of an experience for which I will always remain grateful to The Lord that I did not betray the trust reposed in me by our people.
I call for support for their Excellencies Mr. Peter Obi and Mr. Emeka Sibudu as they will need and do indeed deserve our full support and cooperation. Dr. Chukwuemeka Ezeife, first Executive Governor of the State
You can see it, Anambra people have turned out en masse, what are we celebrating? We are celebrating the return of Anambra to its old glory. We are celebrating peace, the verdict of progress; we are talking as one people, no longer divided, no longer burning down the edifices of government. Today is a new day in Anambra State.
We prayed for it, we worked for it, we made all kinds of sacrifices for it and God answered prayers, God has answered our prayers. On those still challenging the outcome of the election he said, 'What we are celebrating is the return of peace, its not absence of the tribunal. Anybody can go to court, for example, I didn't vote, no Ezeife voted.
'The election was not credible in the sense of disenfranchisement of people but what was voted was counted and there was no violence, at least not much. So, we are celebrating that positive aspect of it.
'We don't foul anybody for going to look for justice anywhere, but it doesn't appear that there is any case that has merit.
'I want to advise Obi to face his manifesto and to borrow from other manifestoes, collect all the other manifestoes and see what loopholes they can pick up from the other people's manifestoes and try to make peace, so that Anambra will now come back as a peaceful state.
Chief Victor Umeh, National Chairman of APGA
'This is the first time a credible election took place in the state and the result declared after the election was a true reflection of the votes of the people, so this victory is a uniting victory, it is a unity victory. The PDP you can see them, they are all over the place, they are happy, they said, this man won.
'The only way to have peace in a state where you conduct election credibly, transparently, if the winner emerges, everybody will congratulate the winner. So what the other parties are doing here today is very good for democracy.
'What they are doing is that they are now saying that in a credible election, one person will win and if that person wins, people should unite with him to serve the people. So, it is a very good signal coming out today and I'm very happy about it.
Senator Joy Emordi, Senator representing Anambra North senatorial Zone
What will I say but to say that Anambra State made history today by having an elected governor being re-elected in a free and fair election. So, this is a day for solemn and sober reflection for the Governor, Mr. Peter Obi and the people of Anambra State who elected him, to join hand together to ensure that we move Anambra State forward.
Again, I call on the Governor to exhibit his usual magnanimity to bring all the interest groups together to work together and push the state forward.
Hon. Vitalis Okafor, representing Ihiala federal constituency in House of Representatives
I feel alright, once a Governor emerges, you must give support to the Governor so that he will do his best to the state, so I'm very happy.
I however advice the Governor to accommodate all shades of opinion, sieve and take the one that will help in building Anambra State.