Oputa's Death Marks The End Of An Era—Obiano Laments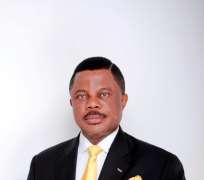 The governor of Anambra State, Chief Willie Obiano has described the passage on Sunday afternoon of the pre-eminent jurist and outstanding Judge of the Supreme Court, as the final epilogue in the narrative of Nigeria's generation of icons of jurisprudence.
In a glowing tribute to the late sage signed by James Eze, his Senior Special Assistant on Media, Governor Obiano observed that 'Justice Oputa belongs to the front-row of Nigeria's foremost jurists and legal giants whose genius laid down the judicial framework for the country. In his company are legends like Justice Anthony Aniagolu, Justice Babakayode Eso, Justice Augustine Nnamani and Justice T. S. Elias.
But even so, Justice Oputa was a towering giant of incomparable stature whose brilliance left an indelible mark on Nigeria's collective consciousness at the now famous Oputa panel. His passage brings closure to Nigeria's long line of legal luminaries of his era.'
According to Governor Obiano, Justice of Oputa's passage at a time when his sagely counsel would have illuminated conversations at the on-going National Conference underscores his pre-eminent position as a leading statesman. 'The world will never forget the monumental talent and excellent jurisprudential skills he brought to bear on the Oputa Panel that helped heal the wounds inflicted on Nigeria by 15 years of military dictatorship,' Obiano remarked, further pointing out that with his death Nigeria has lost a metaphorical legal father figure.
'Nigeria shall miss his extra-ordinary philosophical approach to jurisprudence which pitched him almost on the same pedestal as the iconographic Lord Denning. His high-minded interpretations of the letters of the law earned him the admiration of his peers who referred to him in awe as Socrates. Oputa's passage leaves a void that will take generations to fill. Although we are bereaved of his presence, he left us rich with his judgements and legal writings which will continue to guide successive generations on the knotty issues of jurisprudence,' Governor Obiano observed and urged the federal government to quickly seek a way to immortalize him.
'I wish to assure my friend, Charles and the rest of the Oputa family that my prayers and the prayers of Ndi Anambra are with them in this moment of grief. May God grant you the special grace to stand strong this time and give Nigeria the fortitude to bear the loss,' the governor further added.