Be Proactive, Genuine In Fighting Insecurity--PDP Tells Gov. Amaechi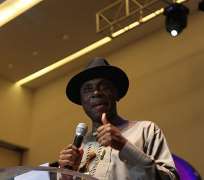 The Peoples Democratic Party, PDP, Rivers Chapter, says it is not satisfy with the response of Rivers State Governor, Rotimi Amaechi, on issues of insecurity and violent - prone situations in the State and nation.
The PDP, after reviewing the current political and general security situation in the country, observes that the Rivers State Governor has not shown enough concern and genuine commitments in tackling most social vices and criminal activities in the State, noting that most of the Governor's activities have been that of lip service, showmanship and frequent trips within and outside the country.
The Party particularly mentioned cases of kidnappings, cultism, armed robbery, and the trepidation of insurgency in parts of the State and the country, which has reached an alarming stage, calling for pragmatic efforts by Gov. Rotimi Amaechi, who manages billions of naira security votes.
The PDP is of the position that rather than waiting for people to be kidnapped and released or escape from the dens of their abductors, like in the case of the Chiboke Secondary School Girls, before offering them scholarship, Governor Amaechi should commit himself and the resources into fighting and averting the menace since it cost less to prevent than to cure.
The Party further says it has watched with frustration the continued success in the activities of the insurgents when the various States governments are in place, with their full constitutional powers and authority intact.
The Party therefore, urges Governor Amaechi and his North-East APC Governors to be more proactive in tackling the spate of insecurity in parts of the country without unduly criticizing the President and the Federal Government on what requires collective efforts by the leaders, particularly, the Governors, who superintend over the State's resources and collect billions of naira as monthly security votes.
Signed:


Jerry Needam
Special Adviser, on Media to
State PDP Chairman, Bro. Felix Obuah
Monday, May 5, 2014