Onyeka Onwenu Says Nigeria Police Now Sensitive To Domestic Violence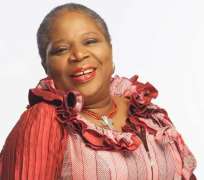 Music Icon and actress, Oyeka Onwenu, has called on women in Nigeria to come out and speak on domestic violence so as to help eradicate it to a minimal level.
According to the now Director General of National Centre for Women Development (NCWD), she said that the kind of society we live in has been a great hindrance for women to come out and report rape cases as it will become a stigma.
"It is understandable that women will be afraid to come report. It is the society we were raised. Everything is always the fault of the woman. But that is changing."
"We also need to engage the Police. Often times, it is the reaction of the Police that will encourage you to go ahead or not. But the Police is changing."
She added that in the next five years, more women will speak out.