The Reason I Remarried After Christy Essien's Death--Chief Edwin Igbokwe Explains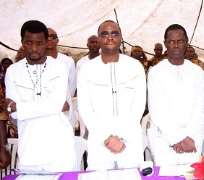 Husband of the late Lady of Songs, Christy Essien Igbokwe, Chief Edwin Igbokwe, has lashed the Nigerian media on how they have wrongfully managed his marriage publicity, which was held recently on 19th of April in Owerri, while the church blessing took place on Easter Monday, the 21st of April in Awka.
According to Chief Edwin Igbokwe, he said that he had granted an interview to a print medium where he said he was not going to remarry, but did not expect he could not cope alone.
"Nobody expected what happened to happen. I thought I could stay alone but I discovered it wasn't possible and it would have been very terrible if people started seeing different women coming in and out of my house. I wanted a responsible situation. I want to live longer."
Chief Igbokwe further stated that his new wife has been a family friend since after the war and was close to the family before his late wife's demise and as such deemed it fit to get betrothed to her since she was well known among the family and he needed someone to appreciate.
"What people don't know is that you need a partner to quarrel with. Once you get married, you feel a different life and when that life is cut off from you, you will feel dejected. Even if it's from morning till night that you quarrel with your wife and you still sleep together and wake up, you will appreciate her."