GOV. OKOROCHA IS SACRIFICING FOR FREE EDUCATION -MADUMERE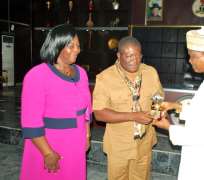 Imo State Deputy Governor, Prince Eze Madumere, has said that the free education being enjoyed in Imo State is not unconnected to sacrifices made by Owelle Rochas Okorocha.
He made this remark last Wednesday, April 28, 2014, during the opening ceremony of the twelfth quarterly Universal Basic Education Commission meeting in Victory Banquet Hall, Imo State Government House Owerri.
In his statement, Imo State number two citizen opined that Owelle Rochas Okorocha, Governor of Imo State, have up his security vote to fund free education so as to make Imo Children especially children of the poorest of the poor to go school, while observing that education is the greatest industry in Imo State.
Speaking further, he said that in a bid to handle the population explosion being experienced in both primary and secondary schools, Governor Okorocha has embarked on construction of 305 school blocks of 6 classrooms of one storey building in each of the 305 wards in Imo State.
Meanwhile, the Hon. Minister of Education Nyesom Wike was represented by Dr. Olu Oyewo, speaking earlier said their mission was in continuation of their quarterly brainstorming in achieving the policy goals of the Government in education especially as it concerns the school curricular at the foundation level of Nursery, Crèche and kindergarten.
Furthermore, the Executive Secretary of the UBEC, Alhaji Dikko Suleiman spoke glowingly about Owelle Rochas Okorocha's rare gesture, who he said has even before getting into government gave thousands of Nigeria's children free education under his Rochas Foundation Colleges. He, however encouraged Governor Okorocha to continue in his patriotic effort towards realizing the Nigeria of the people's dream.
Dr. Dikko, however, commended the wife of the Governor, who was also present at the opening ceremony, Nneoma Nkechi Okorocha for her unusual tradition of putting smiles on the faces of the indigents and less privileged. Quoting him, " it is no longer behind every man, there is a woman, in the case of Wife of Governor Okorocha, Nneoma Nkechi Okorocha, it is beside successful Governor Okorocha, there is a Nneoma Nkechi Okorocha.
The high point of the even was the drama session of the Junior SecondaryStudents, songs rendered by the SUBEB choir and the Cultural dance by the primary school pupils.
His Excellency, Prince Eze Madumere, MFR, in a warm handshake with the representative of Hon. Minister of Education, Nyesom Wike, Dr. Olu Oyewo while the Exceutive Sec. of UBEC, Alhaji Dikko Suleiman during twelfth quarterly Universal basic Education Management Meeting hosted by Imo State Government in Government House Owerri recently.
Imo Deputy Governor, Prince Eze Madumere, MFR, flanked by leadership and members of the UBEC Management from the thirty-six States of the Federal Republic of Nigeria recently in Imo State Government House, Owerri.
His Excellency, Prince Eze Madumere, MFR, receiving an Award for His Excellency, Owelle Rochas Okorocha from the Secretary of UBEC during an opening ceremony of the twelfth quarterly management meeting of UBEC at Imo Banquet Hall as the Chairman of Imo State Universal Basic Education Commission, Chief (Mrs.) Gertrude Odika watches in excitement.