WE CANNOT ERADICATE SMUGGLING TOTALLY – ALIU, SEME BORDER ,CAC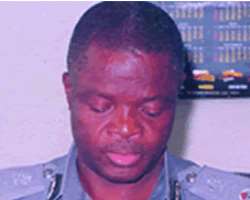 We cannot eradicate smuggling totally - Aliu, Seme Border CAC
By MARTINS NWANNE
Thursday, March 18, 2010
As a result of growing concerns over reports and complaints that Seme Border has become a beautiful haven for smugglers, the views of the Customs Area Comptroller (CAC) at Seme Border, Gabriel Toba Aliu, were sought.
While clarifying issues, the CAC admitted that like what obtains in countries with long coastal lines, smuggling cannot be totally eradicated at Seme Border or at any other port or land border.
According to him, 'smuggling is a cankerworm which no country with a coastline has been able to climinate. He spoke on other issues as well.
Do smugglers operate through bush paths or the ocean in Seme border area?
Well, I am happy you have gone round to look for areas through which smugglers carry out their dastard deeds. That is what we expect of good journalists. I am not saying that smuggling is totally eradicated in Seme, just as it is never totally eradicated anywhere in the world, where you have coastlines.
Total eradication of smuggling activities is not possible because human beings device various ingeneous methods of smuggling anything, depending on what is to be smuggled.
Since your posting to Seme, have you recoverded any incidents of smuggling of arms and ammunitions? If so, did you make any arrests?
No. No. No. As I said earlier, if you say that people smuggle here, it is not totally eradicated because you see people carry a bag of rice here and a gallon of vegetable oil there. To you, that may be smuggling. As for smuggling of arms and ammunition, we have not seen one smuggler of such items. Besides, the natives, the communities will never allow that kind of activity here.
I have held several meetings with them and sought their co-operation. They have always assured us that their communities would never ever tolerate that. It is like somebody spoiling their something or painting their communities in unpalatable shades. Do you forget too, that we conduct joint examination with the SSS, NAFDAC, NDLEA and so on. I have not heard of arms smuggling in this area.
Why did your command not write to the organisations concerned, instead of calling a press conference?
The Nigeria Customs Service (NCS), would not like to go into any press war with anybody. We belong to the civil service and should be seen but not heard.
If the Service, NCS or the authorities call on me outside and start writing about what you do not know anything about. In any case, what they wrote was not specific. Smuggling, rice smuggling bla, bla, bla. If you read those write ups, you will see that there is nothing really to respond to.
During the press conference, they asked questions and we gave them statistics.
How can you show the publications were sponsored?
It is there. They mentioned it. Rice Millers' Association of Nigeria. So, it is not a question of anybody saying it. They said it by themselves, in the papers, if you read them carefully.
We will not trade words with them. Like I told you, we have our statistics. To start with, we want to know how they got the statistics.
You do not just open your mouth and say so, so, so thousands of tones. How did you get the statistics?
I would have loved a situation where they would say that truck X, with registration number XYZ, caried XY quantity of rice. They did not say any such things. Is that investigative or rumour journalism? You do not just sit down and make wild allegation. I do not think it is fair.
As alleged, where one pays duty on three trucks but takes away 20, is there no possibility of some officers colluding?
The trucks have numbers on them. The writers of those publications, took pictures of the trucks. I had expected them to have created time to get more information, such as the truck numbers and so on.
The pictures of the trucks they took, were trucks being examined. We examine on the road. We do not have examination bay. Everybody knows that.
Let them show evidence that, for instance, to say that on such and such a day, truck number so, so, so, passed without payment of duty.
Anybody can make any such wild allegations, especially when such people are sponsored. When you came, without even bothering to come to us, you are on you own, went round, made your independent inquiries and investigations, before confronting us. That is investigative journalism.
Is there any other thing I did not ask you, which you would like to talk about or would want Nigerians to know?
One thing I have always said, at any opportunity I have, is to keep reminding us that this Nigeria Project, is for everybody. Do not think you have more stake in it than me or than the other person. All of us have equal stake.
For one segment of the project to wake up one day and write incorrectly about the other segment is not a decent thing to do. Even if you cannot say 'this man is doing well,' please leave him alone.
Those of us at Seme Border can proudly say that we have tried. The officers, the agents, the importers … all of us have tried.
The revenue is there. The figures are there for everyone to see. These are statistics you can point at to confirm. Last Decmber (2009), we made the highest revenue N540 million. In the history of Seme, it has never been so good!
In January 2010, we made more than N443 million, despite the fact that January is usually regarded as a dry month financially. This amount, has never been the case in any previous January of any year in Seme.
As of now in February (24-2-2010) we have made more than N300 million revenue as at last week, and most of that revenue comes from rice.
So, who is smuggling what? If they are smuggling rice, we would not get so much out of duty payment. I would wish people could be fair in their dealings with the other partners.
In as much as you are doing your work in your own specialised field, you must strive to be fair to the other parties who are in other fields too.
Even if you are sponsored, as the reports came in torents, Nigerians are no fools. If they read those reports they would know that they (reports) were sponsored projects.