The Illusion Of A Poverty-Free Nigeria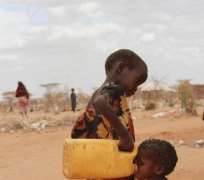 On May 1, 2004 while addressing workers at the May Day rally held at the Eagle Square Abuja, President Goodluck Jonathan stated that "the challenge of the country is not poverty, but redistribution of wealth." According to the President, 'Nigeria is not a poor country. Nigerians are the most travelled people. There is no country you go that you will not see Nigerians. The GDP of Nigeria is over half a trillion dollars and the economy is growing at close to 7 percent. Aliko Dangote was recently classified among the 25 richest people in the World."
In furtherance of his argument, the President narrated thus: 'I visited Kenya recently on a state visit and there was a programme for Nigerian and Kenyan business men to interact and the number of private jets that landed in Nairobi that day was a subject of discussion in Kenyan media for over a week. If you talk about ownership of private jets, Nigeria will be among the first 10 countries, yet they (World Bank and other Western Institutions) are saying that Nigeria is among the five poorest countries. Some of you will experience that there is an amount of money you will give to a Nigerian who needs help and [s/he] will not even regard it and thank you but if you travel to other countries and give such an amount, the person will celebrate."
Clearly, one can easily agree with Mr. President that Nigeria suffers from a chronic problem of inequality which manifests in a disproportionate concentration of resources and wealth in the hands of a negligible minority of privileged elite, hence, his emphasis on redistribution. However, one considers as inexplicable and bizarre the frantic attempt by President Jonathan to acknowledge the reality of material inequality amongst Nigerians while, on the other hand, denying the existence of poverty and its connexion with deep-seated inequality in the country. By seeking to divorce the issue of poverty from the problem of inequitable distribution of wealth and resources, the President has orchestrated a serious violence to sound economic logic.
In reality, poverty, which simply denotes the absence of the material needs to participate fully in accepted daily life, is at once a consequence and a reflection of how a society allocates and distributes its wealth, resources and values. In the case of Nigeria, such pattern of allocation is not only lopsided, it is patently unjust. A country which, for example, dedicates over 70 percent of its national and state budgets in the service of the avaricious appetite of both political and bureaucratic elite can hardly claim to be a just society and, by extension, will hardly escape the inevitability of structural poverty.
If the President's notion of a poverty-free Nigeria is perplexingly alarming, his deployment of examples to legitimize the idea that Nigerians are cruising in lavish and luxurious lifestyle is even more bloodcurdling. It might be fanciful to assert that "Nigerians are the most travelled people." on earth. The harder task however lies in assessing the proportion of Nigerians who embark on such travels as economic refugees, and to understand why Nigerians are compelled to throng the barricaded premises of foreign embassies in Lagos and Abuja on daily basis, desperately seeking for opportunity to "flee" to foreign lands.
To insist, as the President has done, that Nigeria's economic health can be gauged by the number of private jet ownership in the country is, to say the least, mischievous and rascally. In a country of over 160 million people, how many Nigerians can earnestly afford the luxury of a private jet? What class of Nigerians are presently in possession of such exotic jets if not those who feast on the country's commonwealth like insidious parasites?
There is an inherent tragedy in President Jonathan's submission that should bother any well-meaning Nigerian. The cardinal essence of political leadership is principally to galvanize state power and the creative energies of the people in tackling the notorious problems besetting a political community such as poverty and corruption. Sadly, it is these same problems, with their attendant devastating consequences, that President Jonathan have been denying by insisting that "poverty and corruption are not Nigeria's problem!"
By presenting Aliko Dangote as a superlative example of a prosperous Nigeria, President Jonathan has invariably trivialized the serious problem of pervasive destitution and mass-poverty which remains a defining attribute of Nigeria's economic system. Only some few weeks back, countless number of dispossessed Nigerian youths congregated in various stadia across the country in the quest for limited job spaces at the Nigerian Immigration Service - a scam which turned out as an invitation to funeral. That particular incident was a sad reminder of the depth of unemployment and the concomitant poverty bedevilling the country. It is a sobering exemplar of the magnitude of hopelessness, desperation, and disgruntlement that have been afflicted on the Nigerian lowly populace - especially, the youth - by generations of irresponsible, unaccountable, inept, and chronically corrupt regimes in power.
If has become increasingly doubtful if the often-touted war on corruption and poverty reduction can be meaningfully prosecuted with a presidential mindset that rejects the existence of poverty and corruption in Nigeria. By denying the reality of these twin maladies, the President has been providing an ideological shock absorber for the intensification of corruption - especially by the power elite - in Nigeria. It is not surprising, therefore, that Nigeria has witnessed - and continues to witness - crass impunity arising from the unparalleled misapplication of state resources by some elected or appointed state officials who delight themselves in the consolation that the President "will not give a damn."
The problem of poverty is real in Nigeria. It is a reality which reflects the pitiable, existential condition of a vast majority of Nigerians. At such, it is a problem that demands real solution; one that should supersede the habitual proclamation of statistical permutations which affirm "7 percent annual economic growth rate".
More fundamentally, it has become compelling for President Jonathan to reappraise his chosen parameters for measuring the economic health and prosperity of the country he presides over. In a country where insecurity looms large, and access to basic amenities such as clean water, stable electricity, functional education, quality healthcare, soft credit for SMEs etc. remain highly problematic, it becomes deeply scandalous that President Jonathan will choose to measure Nigeria's economic well-being by resort to the queer criteria of private jet ownership and the classification of Aliko Dangote among the 25 richest people in the world.
Disclaimer:

"The views/contents expressed in this article are the sole responsibility of

Ugochukwu Raymond Ogubuariri

and do not necessarily reflect those of The Nigerian Voice. The Nigerian Voice will not be responsible or liable for any inaccurate or incorrect statements contained in this article."
Articles by Ugochukwu Raymond Ogubuariri