I Am Not Using Whitenicious –Cynthia Morgan Debunks; (See Before And After Photos)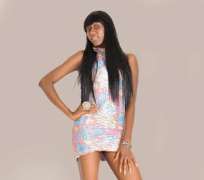 In recent times, so many allegations are been made about most Nigerian female celebrities who were once known for dark skin to be currently bleaching. A lot of fans emphasise the fact that majority of this ladies use the popular 'whitenicious' product' to appear light skinned, because to some of them, light skin sells more.
Just as the likes of Yvonne Nelson and co has been bashed about this, so also the 'Don't break my heart' Nigerian singer Cynthia Morgan, who is a Pop dancehall and hip hop artiste signed to P Square's elder brother, Jude Okoye's North Side Entertainment.
"It's not true .It's one of the craziest things I have heard about myself. No, I am not using Whitenicious". Cynthia claimed.
When queried further about her photos that were seen online before her debut in the music industry, the singer went on to say; "What I will love to say about that is that in life people grow and change with time. "For example, I was born with a talent and over the years, I improved on the talent. For me, I grew up, then I was very young and I was even a tomboy and don't even think I used cream. I grew up and I am lighter People don't look the way they looked five-six years ago. If you still look like that, then you have a problem and that could mean you are not growing. It's either you are fatter, slimmer , lighter or darker or have a pot belly. People grow.
see below the before and after photos of Cynthia Morgan.
>

© 2014 Nollywoodgists.com
Click the link below to go to...
Genevieve Nnaji Delves Into Fashion Again
Salva Kir Runs to T.B. Joshua - Will Putin do the Same?
D'banj and Genevieve officially back as lovers
Femi Adebayo Moves Into New Ibadan Home
'Many Celebrities who donated for my surgery used it as a competition' OJB; reveals few names( must read)
P-Square's Elder Brother, Jude Okoye, Set To Wed