Cossy Orjiakor Thinks Marriage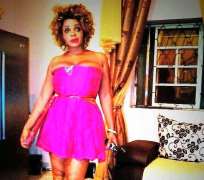 Nollywood actress, Cossy Orjiakor may not have acted in lots of movies, but she has successfully substituted that for series of issues, which have kept her in the news most of the time. If her boyfriend has not left her today because of his inability to get her a car, it would be Cossy being robbed by armed robbers tomorrow.
Most of the time, her mammary glands have kept her fresh in the minds of many people as she graciously displays them for all to feast on.
In a recent chat with Punch, Cossy revealed her desire to settle down with a man to raise a family together with. She expressed worry that most men she meets are only interested in seeing her 'mighty oranges', which are always finding it difficult to stay inside her dress.
"Most men notice my boobs when they meet me for the first time," Cossy lamented, sating further that, "they touch each other, arguing whether or not they are real."
"It will take a man with a lot of guts to walk up to me and approach me. But I believe in marriage and hope to eventually marry and have kids of my own," she said.