Laz Ekwueme in Trouble, As Oko Indigenes Set His Palace Ablaze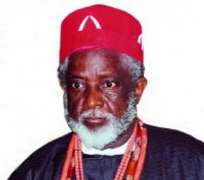 Following the banning of carrying of masquerade by Nollywood actor and paramount ruler of Oko Kingdom, Igwe Prof Laz Ekwueme. Igwe Ekwueme banned the masquerades from celebrating their 2013/14 Okposi Oko Festival as a result of their violent activities which actually took the life of female student in 2012.
Fresh facts emerging indicate that veteran actor Laz Ekwueme might be swimming in trouble waters, as Oko indigenes have not only burnt his palace down, but also threatened to set him ablaze. Igwe Ekwueme is said to have vacated his palace to an unknown destination before it was burnt.
It was gathered that crisis kicked-off on Saturday April 19, 2014 when some villager embarks on Easter eve celebration, which heralds the Okposi Oko Festival. However, Igwe Ekwueme thwarted their effort by inviting security officers. Unfortunately one of the officers shot a masquerade to death.
Immediately the masquerade carrier was confirmed dead, almost all the indigenes marched to Laz Ekweme's palace, set it on fire and some of his chiefs were also beaten mercilessly, as they could not get Laz who has left the palace to an unknown destination.
Many cars were destroyed during the crisis, and it was equally alleged that a lecturer in Federal Polytechnic Oko, identified as Metuu was set on fire too.
© 2014 Nollywoodgists.com
Click the link below to go to...
Sophia Chikere Floats Perfume Line 'Sophia's Secret' (Pictures)
Actress cum Style Icon Genevieve Shine In Escada Outfit
IF HE HITS YOU, RUN!!!!!!! Just run!!!! Don't listen to no pastor or family member to 'stay' ; Fashion Designer Estella Ogbonna Recalls Her Domestic Violence Ordeal
STAR ACTOR REGRETS MARRYING WIFE – 'You must not tell anybody that I am your husband'
Ex-hubby Olumide Okufulure: I Changed Laide Bakare's Live With A 2 million Naira Chrysler Car & A 4matic Benz