SMALL BUSINESSES MAY GET TAX REBATE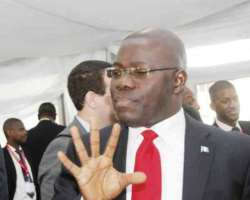 Small businesses may get tax rebate
By Bassey Udo
March 17, 2010 12:38AM
The federal government said yesterday in Abuja that it is considering improved funding and tax rebate to micro, small and medium scale enterprises (SMEs) to empower them play a pivotal role in the nation's economic growth.
Remi Babalola, Minister of State for Finance, told members of the executive council of the Nigerian Association of Small and Medium Enterprises (NASME) that SMEs deserve adequate government incentives to encourage them to effectively play their role in the economy.
Mr. Babalola told the council led by Ike Abugu, its President, that 'The SMEs are fundamental to the growth of any economy. They are the real people creating jobs in the economy. We need to create incentives for SMEs and entrepreneurs in the country.
'The government is already supporting the SMEs through the agric credit guarantee scheme and other initiatives being implemented by the Central Bank of Nigeria (CBN), as well as through the Small and Medium Development Agency of Nigeria. The government will find more structures and incentives to continue to support the development of the SMEs.'
Stimulus package
Mr. Abugu, the association's president, in his remarks had called for a comprehensive, economy-wide and all-embracing stimulus package for the SMEs, pointing out that such support has become necessary to encourage entrepreneurship development, wealth and jobs creation, as well as empower them to serve as catalysts for technological development and innovation.
Abugu also called for the establishment of SME banks in our country to provide funding for the enterprises, adding 'There are currently no financial institutions specialising in SMEs in Nigeria. The deposit money banks, as they exist in Nigeria today, are not of much use to genuine SMEs that need affordable, long-term financing.
While urging the government to implement a credit scheme for SMEs, the president commended the support given to the National Economic Reconstruction Fund (NERFUND), adding that he was hopeful that such continued support from critical stakeholders would eventually help the fund tranlate into a full-fledged SME Bank in the near future.