Ladies Wear Wrong Cloth For The Right Event—Cinai Couture Boss, Chinyere Abubaike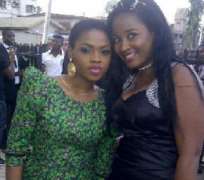 In recent times, there have been loads of young talented designers and fashion stylists carving a niche for themselves in the fashion industry. Such kinds of people include 26 years old Chinyere Abubaike, who is the creative designer of Cinai Couture, which is her own business.
Chinny, as she is fondly called by those who know her, tells Edith Elekwachi of Nollywoodgists.com about her fashion career and her fashion choices.
So many people haven't heard about Cinai Couture and who owns it. Can we meet you?
My name is Chinyere Abubaike, born on 20th January, 1985, from Imo state. I studied Banking and Finance at the University of Nigeria, Nsukka, Enugu. I'm a Christian.
When did you start your fashion design career?
My mum was a fashion designer, and I have always loved to design and after my National Youth Service Corps (NYSC), I went for training and that was how it all started.
So, when did you officially kick off your fashion career?
I started professionally in 2011
What is your style of fashion?
My style isn't just limited to Ankara alone. I work with different fabrics like lace, chiffon and others.
Have you ever designed for celebrities?
Yes, I design for Nollywood actress, Ifeoma Okeke.
Has designing changed your style?
Yes, it has. I now eat, sleep, dream and drink fashion. I am so involved in updating and upgrading my fashion style to meet fashion sense that I no more have time other things.
What is the most interesting thing about designing clothes for people?
For me, it is always the finishing. How well it suits them and how fabulous they look. The uniqueness of individual styles and ability to measure up makes the job interesting and also the diversity of their tastes and choices.
What fashion pieces do you favour?
I am in love with my Ankara mini dress.
What is your short term and long term focus in fashion?
To be detailed, updated and upgraded to meet up with latest fashion needs. My long term focus is to own my own fashion academy which would be called 'House of Cinai'.
What are the common major wardrobe malfunctions you see people make?
A lot of ladies people don't wear what suits them and matches with their physique. They also appear in the wrong cloth for the right event.
How lucrative is investing in fashion in Nigeria today? Is it advisable for one to delve into it?
The business is very lucrative. This is because everyone must wear clothes and then, the rising consciousness of creative fashion makes the market a virgin one.
Are you afraid of colours and bold prints?
Not at all, I am not afraid of colours and bold prints, I enjoy working with them.
How long does it take you to dress up?
It takes me at maximum 20 minutes to dress up.
Do you shop for clothes or make all your clothes?
I shop sometimes.
How often do you shop for clothes?
Mostly every three to four months.
Who is your best Nigerian designer?
Frank Oshodi.
Why is he your best?
He is a fashion icon and I love his designs.
Do you flaunt your designs at fashion shows?
Yes I do, I have majorly showcased on two runway fashion shows in Lagos State.
Recently, Wunmi Obe (wife of Tunde Obe), said fashion designers who want to be hyped by celebs on red carpets should pay for that or make such dresses free. What is your view about this?
I think it is a thing of the mind and your personality. You are a celebrity, which means a lot of people celebrate you. If a designer gives you a dress to help showcase, the least you can do is also appreciate the designer. You might not pay the actual amount, but you can give a token because it costs designers a lot, which is more like giving back.