"I scored 17 in JAMB" Timaya…Egberi Papa 1 of Bayelsa Says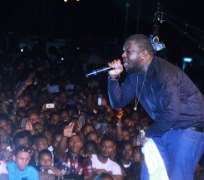 Despite not making waves academically, Egberi Papa 1 of Bayelsa is certainly an inspiration to thousands of youths across the country with his endless string of hit songs and his 'grass to grace' story.

Timaya made sure to drop this titbit during his eclectic performance at the 3Rd stage of Star Music Trek, which held in Uyo on April 12th 2014.

"Education is not for me," the hit artiste confessed, "It is important, yes, but not for me for me"
"I scored 17 in JAMB, That's when I gave up. I don't have the brain for education but for those of you who do, please do it, its good." He further stressed.
No one can dispute that the massively popular Niger Delta star is still so passionate about education -or at least strongly encourages others to have it.

It's thrilling to note too that despite this 'lack', he has risen to become one of the most influential artistes in the country today who consistently intersperses his performances with an enduring message to young people to always harness their talent and exploit it.