FORTY CHEERS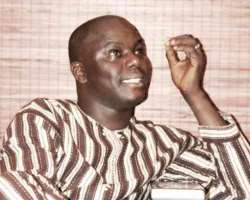 Forty cheers
By Abidemi Dairo
March 17, 2010 02:12AM
Hip Hop World's top dawg Photo: FEMI ADEBESIN-KUTI
Ayo Animashaun, publisher of the Hip-Hip World Magazine, organisers of The Hip-Hop World Awards is 40 today. The entertainment mogul speaks about the different challenges he has experienced in building the brand.
How does it feel to be forty?
Seriously, I can't believe I'm 40 already, but I believe it is a lesson that people should spend their time well because before you know it, you're old and won't be able to do many things anymore. It's just like yesterday when 15 years ago, Hip-Hop World Magazine started and people were calling me the youngest publisher. I think I've been lucky, although I've worked hard and it is only fair that I am rewarded.
Are there things you wish you had done differently over the years?
Yes, there are things I might have done differently had I the chance to do them again but I have no regrets. I don't even think there is much I would want to undo or do differently; I just wished things were better in the country as the years went by. The things that really bother me are those things that I cannot change individually; they are things we can only change as a people. Now I just concentrate on the future because even though I feel happy and fulfilled, I know there is still a lot of work to be done. I consider this point a new beginning for me.
What were the major challenges you had to overcome before making the Hip Hop World brand what it is today?
When the magazine started, it was my first time venturing into any business whatsoever; so I did not start with much experience. I started with a relatively low amount of N5,000 for the typesetting and N14,000 for the colour separation and another N5,000 for the electro-graphic and every other thing was on credit. Although the funds were low and I lacked major things required to start up a business, my determination to succeed was always present. I did not recognise failure as an option. I learnt everything I know now on the job; I made vital mistakes but as the business was not big, I could fall and get up again and learnt from every mistake. So when the funds started coming in, I still didn't see it as a solution to my challenges because it still created other issues like putting N20 where I should put N5 and [vice versa] but the determination and passion for it ensured that I always moved on. Even now I won't say I've gotten it perfectly right because we are still growing.
How have you managed running the Hip-Hop World brand, i.e. Magazine, Hip On TV and the Hip-Hop World Awards?
I must say that I am blessed with an excellent team. With the Hip Hop World Awards, I believe I've been lucky because it's like having a dream and when you share the dream with others they see it exactly as you wanted them to. My team come up with their argument about suggestions and together we arrive at an agreement that makes the Awards happen. I did not do these things alone; I have never achieved anything as an individual because I work with a team. Each arm of the brand has its own team which is responsible for its running. I believe one thing that is working for the building of these brands is that I work with people who are all determined not to fail.
While on the subject, what is the selection process like for Hip Hop World Awardees?
The first thing we do is define the eligibility period, which is usually from December two years before to November of the past year. We receive entries from artists and stake holders in the industry which are reviewed and nominated by judges that I will not want to name because Nigerians love to lobby and I don't want them bothered. While judges play sole roles in some categories, some are 100 per cent by votes; examples are the Album of the Year and the Next Rated categories, the judges just collate votes here.
Do you maintain the same judges for all award editions?
Because the industry is so small and most people are partisan, we make this [decision], dependent on many factors. Like Jimmy Jatt was formerly on the judging panel but after he released his mixtape, we had to drop him because of vested interest; the same reason we refuse to have record label executives on the screening committee. The committee itself includes members of the Hip Hop editorial team, music producers and Disc Jockeys who play music well around the country and can give unbiased feedback on the popularity of songs outside Lagos.
The 2010 edition is returning to Lagos from Abuja, is this a result of lukewarm reception last year?
Abuja was a one-off because we don't want the Awards to be just a Lagos pride but a Nigerian pride. Unfortunately, the entertainment industry is more pronounced in Lagos; our trying out Abuja last year was majorly because we are not satisfied with the venues available to us in Lagos. We decided to bring it back to Lagos because we have a good enough venue, Eko Hotel Exhibition Hall, being constructed here, [better] than the ones we had last year. Also when we went to Abuja last year, people turned up but the energy was lost, and it is not peculiar to only the Hip-Hop World Awards, many other shows suffered the same fate.
Why does the Award overlook some indigenous genres like Fuji and Apala?
It is an award for urban contemporary music with bias for Hip-Hop; these genres don't come in here even though a lot of people have argued that Fuji has a lot of Hip-Hop elements.
Would you consider repackaging the Awards so that it doesn't appear as though it focuses on just rap music as it also extends to Reggae, Dancehall and R&B genres?
The Awards had never been centred on rap music as some people believe, of about 20 categories; I don't think it has up to five rap categories. It is just an award for urban contemporary music with a bias for Hip-Hop; it focuses on mainstream music; the ones that receive great airplay on radio.
How would you rate the Nigerian mainstream music industry?
I believe it is still in trouble, there is no need to pretend it's getting better, it is still in trouble. I hate to talk about piracy alone as a problem plaguing the industry because there are many others, but for a start, how long do record label executives wish to continue to sell intellectual properties for as low as N20, taking away cost of plastic and logistics from the overall cost N150 per CD?