Telecom Giant Etisalat Rebrands, Promises Quality Service To Nigerians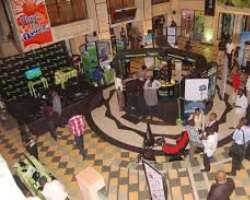 Nigeria's most innovative and fastest growing telecommunications company, Etisalat, has confirmed that, as part of efforts to strengthen operations and improve efficiencies across all functional areas of the business, 74 members of staff were exited recently. This move reinforces the organization's commitment to maintaining a high performance culture through its people.
Matthew Willsher, Acting Chief Executive Officer, Etisalat Nigeria said, "Etisalat remains fully committed to executing its business strategies with the help of a high-performing team of dedicated, hardworking employees. This is a strategic business decision as we continue to match our structure and quality of delivery with our customers' expectations which is what makes customers happy and our business successful".
Etisalat maintains its position as a leader in the telecommunications industry, pushing the limits of innovation with products and services that cater to the communication needs of its customers. It continues to drive its industry leadership with unique products and services across the country, including GEM, the loyalty scheme for high value customers and easyflex, the one-stop-shop' for all voice and data needs of high value customers.
"With Close to 19 million subscribers and over 14% market share, Etisalat Nigeria continues to make significant commercial successes and milestones. We started the year on a good note with sales in Qtr 1 2014 leaping to an all-time high. We expect the next quarter to be even better. Our record breaking monthly subscriber additions and revenues reflect the loyalty of our existing subscribers and attraction to new customers. We will place an increased focus on delivering the best products and services to our customers – while leveraging our strengths in innovation, quality and customer focus," Willsher continued.

It would be recalled that in February 2014, Etisalat announced the attainment of the 18 million subscriber mark in just five years of its operations in Nigeria's highly competitive telecommunications industry. The company also created a new chapter in its operation in the first quarter of 2014 by recording an impressive commercial performance of 13% growth vs. fourth quarter of 2013 which was also a record sales quarter.