Group Passes Vote Of No Confidence On Tambuwal, Ihedioha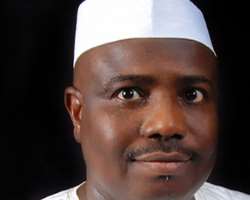 Failure to declare seats of members of the People's Democratic Party at the National Assembly who defected to the All Progressives Congress vacant as being directed by the Party has warranted a vote of no confidence on the Speaker, Rt. Hon Aminu Tambuwal and his Deputy, Rt. Hon Emeka Ihedioha.
This resolution which was passed by a group in the State, Imo Youth Initiative further condemned in its totality the bewildering act of their top ranking members at the National Assembly who could not legally honour the rulings of the Federal High Court sitting in Abuja.
Meanwhile, the group pointed out that with the Party's involvement, which calls that its members who were elected under their platform but defected to the All Progressives Congress must lose their seats, 'Tambuwal and Ihedioha ought to have honoured it if actually they have the interest of the Party at heart'.
Dismayed by Tambuwal and Ihedioha's actions, leader of the group Comrade Unanka Bona Don Duke described it as being highly preposterous and uncanny. 'We condemn this turn out in alliance with the Speaker of the Federal House as this is incoherent and misleading, whereby treating the rule of law with alloyed prejudices hence giving the defaulters a platform of soft landing.'
'Personally on Ihedioha, we see him as a Party chieftain here in Imo, so we are dismayed at such unconventional act, wherein his quest to pilot the affairs of Imo. It ruptures our minds as we wouldn't agree to persons of questionable characters,' he insisted.
However, the PDP told an Abuja Federal High Court so in its preliminary objection to a suit filed by Senator Bello Hayatu and 50 others, including members of the House of Representatives who defected to the APC, to stop their seats from being declared vacant.
PDP, its National Chairman, the Senate President, the Speaker of the House of Representatives, and the Independent National Electoral Commissioners are listed as the defendants in the suit, which came up for hearing on Wednesday before Justice Ahmed Mohammed.
In the suit, the plaintiffs are asking the court to restrain the Senate President and the Speaker of the House of Representatives from conducting any proceedings aimed at declaring their seats, and that of any other member of the PDP who intend to join another political party, vacant.
They are equally asking the court to restrain INEC from accepting nominations of any candidate and conducting bye-elections aimed at filing their seats.
The court had on December 17, 2013, ordered all the parties involved in the suit to maintain status quo, pending the determination of the matter. After the order, the PDP wrote Speaker Aminu Tambuwal, asking him to order the 37 defected lawmakers to return to the party.