President Goodluck Jonathan arrives Bayelsa for daughter's wedding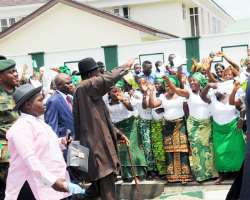 It is an eventful year, no doubt as celebrity wedding tends to be the order of the day. The Former Vice-President Atiku Abubakar's son, Abba Atiku Abubakar, is going to marry his American fiancee tomorrow, April 5th who he met when he went to study in the USA.
However reports have it that the wedding will be held in Dubai. It is expected to be a private affair because that's what the girl's family requested. The reception will be held here in Nigeria.