Roads Blocked, Markets Shut Down Over Jonathan's Daughter's Wedding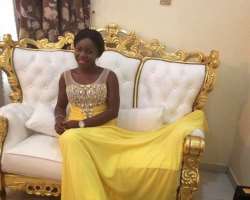 The traditional wedding of President Goodluck Jonathan's adopted daughter, Elizabeth Sakwe is on Saturday April 5, 2014. Ahead of the wedding, sources say all roads leading to the President's house in Kpansia area of Yanegoa, Bayelsa state have been blocked, and this development started since Thursday.
Stern-looking security operatives took over the roads and diverted traffic leading to chaotic traffic situation in Yenagoa. All security commanders, the police, air force, Nigerian Security and Civil Defence Corps (NSCDC), relocated temporarily to Otuoke, the hometown of the President to ensure a hitch-free ceremony.
The first lady, Patience Jonathan and the Chief of Staff, Aso Rock, were said to have arrived the state for the marriage, while the President is expected to arrive Friday for the marriage.
Also a popular market at Kpansia which holds on Saturday has been closed.