Zara Gretti: Gone, Yet Lives On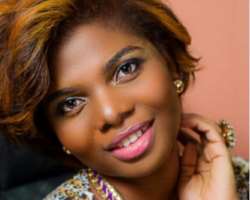 The Clarus Babajide Joseph Family of Igbosere Lagos Island has announced the demise of their daughter, Margaret-Mary Oluwatoyin Ejiroghene Joseph, popularly known as Zara Gretti.
Known for her soothing lyrics, Zara lit up the Nigerian Music Scene a few years back before she was diagnosed with Multiple Sclerosis. Born in Lagos, to Eugene Kolawole Joseph and Abimbola Akindele, on July 30, 1985, Zara passed away on Friday 28 March, 2014 after a two-year battle with Multiple Sclerosis.
Zara will be buried at Ikoyi Cemetery on Friday 4th April after a Funeral Mass at 10am at Holy Cross Cathedral, Catholic Mission Street, Lagos.
Anne-Marie Palmer-Ikuku (Mrs.)
For the Clarus Babajide Joseph Family
About Zara Gretti
Born in Lagos, Nigeria in the mid-80s into a family of various religions and ethnicity; Zara Gretti was an open-minded and free spirited artiste. She lived in Nigeria and the United States becoming an independent artiste and songwriter who began to gain grounds in 2007 after the release of her hit song 'Aboko Ku'. Managed by Toni Payne; she had hit singles like 'The Flyest' and 'Teno'. She passed away on March 28, 2014 after a two-year battle with Multiple Sclerosis
About Red Media Africa
Red Communication is a PR & Communication firm under the parent company, RED. An innovative media group focused on Africa, RED's vision is to excite and empower an evolving generation through the media's limitless possibilities. Built across tools and platforms, its Communication Division holds Red Communication, Red Marketing and Small & Medium, and YouthConnect; and its Content Division holds the Y! brands, including Y! TV, Y! Magazine, YNaija.com, Teen Y!, Y! 2015, the Y! Tech 100 and the Y! Annual Black Ball/Y! 100 Most Influential List.
It also anchors a development firm, The Future Project Africa, which co-presents Africa's leading youth platform, The Future Awards Africa, and other projects including the Nigeria Symposium for Young & Emerging Leaders and The Future Enterprise Support Scheme.
1 AND 2ND RUNNER UP
AL
ANEEKA
DR EMMANUEL
GROUP PHOTO
PRINCESS
TASH
VICTOR
WINNERS 1
WINNERS AND RUNNERS UP
WINNERS