M.I Poses With His Customized Car, Sends Message To Fans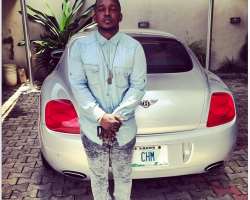 Nigerian Hip Hop artist, Jude Abaga, popularly known as M.I, meaning Mr Incredible, in recent times have been on the low key , after he dropped his latest single 'chairman' in 2013.
Apparently, lots of his fans who have been anticipating another hit single from him, are wondering, why he has chosen to go mute and off the radar for quite a long time.
However, the Chocolate city Vice president for music and Loopy music CEO,released a photo of him, posed by his Bentley GT continental with customized licensed number plates (Chairman) with a message to his fans saying, 'All those who have steady stood by a nigga since day 1.. Wait is almost over. We bout (about) to be winning!!! Not like we ever stopped though!'

The African rapper number 1(self acclaimed), has won several awards, including the MTV Africa Music Award.

Is M.I really a chairman with a 'chairman'?