Governor Akpabio And His 31 Industries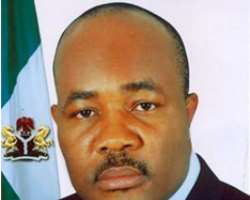 Are you resident in Akwa Ibom State or a frequent visitor to the state? Then you should be familiar with this. Have you heard of or seen these dare-devil, ready to kill and stern looking men always in company of the governor, the local government chairmen and other high government officials. These guys are visibly in action in almost all government functions. They perform the duties of the Nigeria Police. They dress normally in black jeans, black t-shirt and a face cap.
These people are tagged Crowd Control Unit by the government. These are mostly unemployed youths who are desperate to eat from the crumbs falling off from the table of thieving politicians.
During government functions, these agile men determine who goes in and out, they are ready to roast anybody that strays into where the Almighty Emperor of Akwa Ibom State is sitting. Mere mortals dare not engage them in altercation. They will beat, bundle and throw away such a dissident.
Interestingly, these official mafia of the state operates under the watch and protection of the police, in fact, the police complements them. The level of arrogance, lawlessness, and impunity that these government thugs exude in the course of their operation is better imagined than experienced.
Members of this so-called Crowd Control Unit have a second duty, they are engaged as taskforce on illegal parks. Dare you as a motorist fall into their traps, you dare not pack wrongly or pick a passenger other than at designated parks, if they catch you, you are finished. Attempting an escape is suicidal because they will chase you to the last point and when they eventually get you, just say your last prayer.
The third duty I have seen members of this dreaded fraternity perform is collection of taxes and levies for Local Government Councils. They act as Taskforce on Revenue Collection. They will first give traders and business operators notice, when they notice is due, they will visit your shop or business premises and if you for any reason fail or neglect to pay the arbitrary bill earlier issued to you, these thugs of the state will seize your goods and properties and you dare not resist.
The last duty I have seen these guys perform is acting as private guards to politicians, especially during election period. One of them showed me a pistol during the 2011 elections just to make me stop my adamant resistance to election rigging.
I know many people will not like what I have just said not because I am lying but because saying the truth is a serious offence in my state which has earned some the ultimate price (death).
We need to admit that this sort of "empowerment" as they call it diminishes our humanity. It is just temporary. One is tempted to ask if this is a sincere employment by the government or the Cult Wing of the government. This is because almost all the bad boys in my place are members of this mafia. Yet, I have never seen any responsible person among them. These are wicked and jobless youths wasting away.
And I ask, when will all these government sponsored banditry and hooliganism stop in my dear state?
This could be the 31 industries our dear governor promised us during the 2011 governorship campaign.
Disclaimer:

"The views/contents expressed in this article are the sole responsibility of the author(s) and do not necessarily reflect those of The Nigerian Voice. The Nigerian Voice will not be responsible or liable for any inaccurate or incorrect statements contained in this article."
Articles by Chris Oduok