Moyo And Mofe Bid's Father Final Farewell To Mother Earth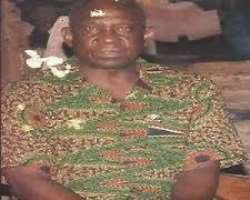 Veteran sports broadcaster Mr. Walter Oyatogun who died after a long battle with his health due to the stroke he suffered few years ago, has been laid to rest today March 29th, in Lagos.
The legendary broadcaster Walter Oyatogun, who ruled the airwaves in the 70s & 80s on Nigeria Television Authority (NTA), happens to be the father of Moyo and Mofe Oyatogun, who are broadcasters at Star 101.5Fm, Lagos.
In a recent interview, Moyo noted that apart from the ordeals her father suffered as a stroke victim, he was not very happy at the point of his death.
"He was not happy about the fact that he put in 43 years of service in the development of sports in the country but was not duly recognised. He was in the vanguard of the development of volleyball and basketball. At the time of his challenges, he felt he was really forgotten."
"He fought hard to ensure that the National Stadium in Lagos was thrown open to people who wanted to train. He believed that a stadium should not be under lock and key once a major event is not happening there. He said the stadium should not just be for people having social events."
According to a source, 'Walter Oyatogun was born in Ghana and fired by the pan Africanism extolled by the late President Kwame Nkrumah of Ghana. He took to sports early in life and acquired professional skill as a Physical Education graduate in France, after which he taught in various schools in Lagos.'
'He was also an amateur heavyweight boxer and one of the pioneers of keep-fit exercise in Lagos. Inevitably, Oyatogun found his way into the NTA and his golden voice and enthusiasm thrilled television viewers for many years. With professionals of like minds, he elevated television sports broadcast to the highest level in Africa,' the source adds.