Nollywood Actress Tonto Dikeh Shares Photos Of Her Parents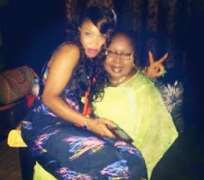 Beautiful Nollywood Actress Tonto Dikeh has really achieved a lot but she hasn't had the time to show off her parents, which according to her she suffered while growing up but took to social media to show off her parents Starting from her late mother, to her healthy father and step mother. However, she thanked her step mother for accepting all her bullshit, stubbornness and rudeness since age 3 when she lost her mother. She wrote,
"Lovely Step mom tankz for keeping up with al my bullshit, stubbornnezz, rudenezz ova d yearz ya d best step mom any1 cld eva ask 4 havn loosin mom at d age of 3."
>

Click the link below to go to...
More Pictures From Stephanie Okereke's Wedding
The Good the Bad and the Ugly at: AY's comedy concert on Easter Sunday
I Can Never Be A Single Mother--Uche Jombo**Talks About Marriage Rumour
Ghanaian Actor, Van Vicker Lands In Police Net Over Arms Possession In Nigeria