OMG! Who Beat OAP toolz up?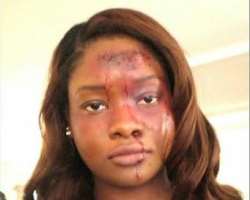 OAP Toolz shared this pics of her looking beat up, One would normally think someone had just dealt with the popular OAP..
But no, she doesn't just know how to talk, she also knows how to make up and the celebrated media personality shared a photo of herself trying some of her make up skills on. She still looks cute in it though....she is multi talented
Click the link below to go to...
STEPHANIE OKEREKE OPENS UP ON N100M PARIS WEDDING--SAYS I'VE ALWAYS DREAMNT OF A FAIRY TALE WEDDING
STEPHANIE OKEREKE'S FRENCH ODYSSEY
More Pictures From Stephanie Okereke's Wedding
First Photos from Stephanie Okereke's France Wedding