'Bleached Your Brains; Nollywood Actress Juliet Ibrahim Blasts Those Accusing Her of Bleaching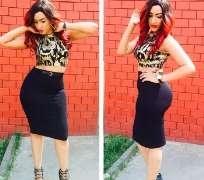 Bleaching skin has become the other of the day for most celebrities and so many people always know how to attack any celebrity that bleaches.
Nollywood actress Juliet Ibrahim went gaga on people who have been accusing her of bleaching her skin, to her she is not sleeping.
The angered actress stated:
"Those accusing others of bleaching obviously needs to bleach dier brains; common sense is a necessity in life n bleaching brains will help!
People are so dumb jeez, how can a mixed race/ mulatto be accused of bleaching? Like seriously? Lmao."
>

Click the link below to go to...
YORUBA STAR ACTOR FEMI ADEBAYO,FINALLY OPENS UP ABOUT HIS ROMANCE WITH FUNKE AKINDELE
Femi Adebayo is not my lover, he is married –Funke Akindele
AT LAST! STAR ACTRESS FUNKE AKINDELE A.K.A JENIFA DUMPS FEMI ADEBAYO
How Funke Akindele (Jenifa), Ruined Femi Adebayo's Marriage
Femi Adebayo Denies Romance With Fathia And 'Jennifa'
What's going on Funke Akindele and Femi Adebayo?
Femi Adebayo and Funke Akindele's Affair Crash!