Nigeria Is Better Than America--Upcoming Artiste, Prinxes Elam Confesses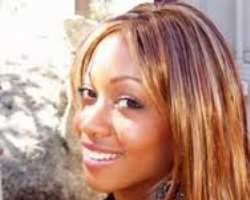 African American artiste, Prinxes Elam, has hipped praises on the vast development that abound in the Nigerian music industry.
According to her, Nigerian music is getting bigger and better. 'The African dream should be the main focus of people right now because it is an open terrain,' she said.
Prinxes added that getting established in Nigeria is easy and does not require the length of time it takes to get established in America.
'There are lots of negative influences in Hollywood. There are so many negative things one has to dodge. There are drugs, people who want to take other people's talents, people who just want you to give away yourself before they can help you.'
'They get lost in drugs and all kinds of disgusting things. Homosexuality is really taking over big time there. One has to be spiritually strong in order not to be influenced,' she stated.
Click the link below to go to...
Uche Jombo's Hubby, Kenny Rodriguez Caught By NFC's Fashion Police In US For Oversize Wear
Genevieve Nnaji Shines on Howzit MSN Africa
2 Ghanaian Celebs, Yvonne Nelson, Mzbel, 'Stab' Each Other Over Ice Prince**Wash Dirty Linens Outside
Funke Akindele's Child Picture
I'm Not Pregnant-Uche Iwuji
Vivian Ejike's Silent Scandals
Baba Fryo Claims N50m Damages From Police
'Big, Strong, Reliable' Nigerian Female Stars On Parade