My GrandChildren Influence Me With 'Skelewu Song'…….Octogenarian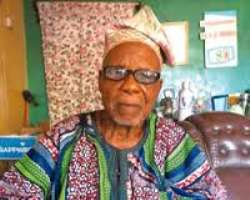 Some people might criticize the song, while some love it. But the fact is the hit track 'Skelewu,' by Davido, has come to stay.
Unlike many octogenarian who would prefer old songs, 85 years old Olalekan Odebiyi, says he enjoys dancing to 'Skelewu,' with his grandchildren.
Odebiyi who hails from Agerige, a village in Ibadan, Oyo state, has been a teacher for about 36years before he retired. Currently, he teaches members of his church Religious Knowledge to prepare them for baptism in his church.
'for example, one of my grandchildren likes this skelewu song, and I join her when she starts to dance it. They sometimes don't allow me to play the music I like on the DVD player. But when I cannot beat them, I have to join them to sing particularly with my grandchildren.'