APC, Labour Members Defect To PDP In Lagos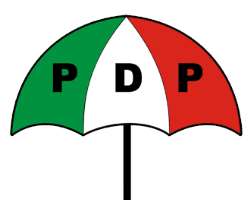 Some members of the All Progressives Congress (APC) and Labour Party (LP) in the Oshodi Isolo Area of Lagos on Thursday defected to the PDP.
The defectors numbering over 700 officially denounced their membership of the APC and LP at a sensitisation get together organised by the PDP in the area.
Speaking at the event, Leaders of the defectors, Hon. Tunde Elegbede and Chief Segun Agbabiaka of the said that their decision to join the PDP was due to the some undemocratic practices in their former parties.
"2015 is around the corner and already we are being told who will represent us even when the primaries have not been held.
"There is so much we are grieved about especially with the 2015 elections by the corner.
"We need a platform that will give a level playing ground to all members" Agbabiaka said.
In his speech, the Lagos State Chairman of the PDP, Chief Tunji Shelle assured the defectors that they would be treated as equal with other members.
"Anyone of you with intentions to contest the 2015 polls will get a level playing ground as others" Shelle said.
He said that the get together was aimed at sensitizing members of the party on working towards the sucess of the PDP in Lagos state.
Shelle however announced that a PDP led government in Lagos state would review some policies it considered absurd by the present administration.
"For instance, we will review the policy on sandfilling of the Atlantic Ocean. There are so many problems to be tackled in Lagos state including traffic and interior road networks.
"Housing has remained a great challenge in the state which we intend to tackle headlong" he said.
The occasion was rounded off with distribution of materials for empowerment such as: barbers Clippers, Cooking stoves, GSM handsets, Cartons of Noodles etc.
Also at the event were the party's state executive members including its state publicity secretary, Mr Taofik Gani.
Signed:
TAOFIK GANI
Lagos PDP