D'banj Finally Launch His Koko Garri ! [Pictures]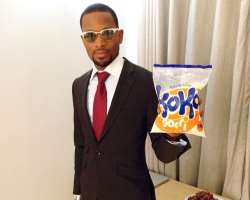 Nigerians! I just saw the photo of D'banj and his Koko garri on his instagram . . To me, this is a good one for a great musician like D'banj .
Don't ask me when Tuface is coming out with his own product. Trust Tu baba, the father of many, he would rather prefer baby Pampers or baby food not garri, like Dbanj. You will see something like Tuface Baby Food!
Naija sha! Instead of congratulating Dbanj the kokomaster on the 'birth' of the kokogarri, they said Good GoD I can't stop laughing I think someone is investing in Agriculture lead on bro @iambangalee.
Here is what he said :
Finally here after 5 yrs.I can proudly say #KokoGarri is the firSt product of Koko Holdings, thanks to God, @oneinafrica, #DoAgric It Pays and #Nagropreneurs. Join me youths, we can do this.