I Am Not Ashamed of My Way of Life.......Denrele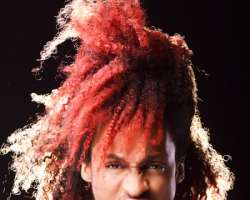 Event anchor, TV personality and singer Denrele Edun, also appreciated by many for his unique fashion style and personality, as stated that he is happy with his way of life because that is his own personality.
In a recent interview on TVC, Denrele, stated that his dressing is just his own way of keeping himself outstanding among many.
'infact, people complain about my hair and my dressing, let me shock you, I just allowed my hairs to grow, I have never retouched my hair. My life style is just my own unique personality.'
It would be recalled that Denrele, started his television career as an actor at eleven when he played a presenter/producer on Kiddievision 101 on NTA Network. As an undergraduate at the University of Lagos he went into modelling, and after graduation, he joined Sound City as a TV presenter. Denrele studied English Education at the University of Lagos.
The TV personality now enjoying the show biz industry, some years back, was excommunicated from his Church for how he dresses but did not allow that to weigh him down.
Denrele has won 16 awards and over 30 nominations in his career. He has previously worked with SoundCity before he was forced out and he moved on to become one of Channel O's VJs.
The Punk and funky TV personality as he is being describe by fans, was born in Hamburg, Germany to a Yoruba father and an Indian-Mauritius mother. He is the only son and has two sisters. He grew up in Germany and came to Nigeria when he was five where he attended Saint Gregory's College, Ikoyi and the University of Lagos.