Multiple Taxation In Abia, A Menace—Gov Orji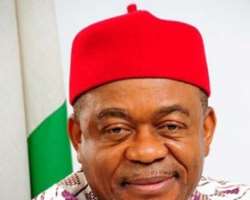 The issue of multiple taxation has been a problem to the state government as it has lost huge amount of money to the menace.
Abia Governor, chief Theodore Orji who stated this at the Government house, Umuahia when he met with the Aba Chamber of Commerce, Industry, Mines and Agriculture (ACCIMA).
He regretted that despite efforts to tackle the menace which is perpetrated by Aba people the menace has continued and promised that government is not folding its arms.
Chief Orji said that as part of measures to check the problem, it has set up a special committee to address it and requested ACCIMA to submit names of their members to be included in the committee.
The Governor said his administration has done its best to improve sanitation of Aba but regretted that residents of the city were not cooperating with the government.
He stated that ACCIMA was an important body as the mouthpiece of the organized private sector and that he has tried to showcase the association.
According to him, he intends to be carrying them along in economic visits outside the country when the opportunity comes.
He said that government lacks the capacity to run businesses successfully and therefore should allow the private sector to so, maintaining that the role of government should be to provide the enabling environment for business to thrive in the state.
In his address earlier, the president of ACCIMA,chief Anthony Enukeme commended the cordial working relationship between the government and the ACCIMA which has led to the inclusion of members of the association in the entourage of the state for overseas business trips.
He appealed to the Governor to harmonize taxes/levies in Abia state to avoid multiple taxation which he said drives away investors.
Chief Enukeme frowned at the inhuman mode of collection of the multiple levies where police/ military personnel collude with the so called contractors to embarrass people in the name of collection of levies and taxes